Barely 7 months into his administration, President Nana Akufo-Addo on Tuesday July 18 decided to host some of the country's seasoned journalists in what has now become a norm for Presidents of the land. Despite the norm, questions were however raised as to the timing of the event and whether or not there was much to talk about after only 6 months of governance but members of the administration insisted there was more than enough to speak about tagging the encounter "Six months of results".
So on Tuesday, scores of journalists made their way to the Banquet Hall of the Flagstaff House to have an interaction with the Fifth President of the Fourth Republic of Ghana, Nana Addo Dankwa Akufo-Addo.

The event was opened with introductory remarks and a statement from the Information Minister, Mustapha Hamid, who spelt out the reason for the gathering and the rules that were to govern the encounter - Each journalist was to ask one question. Following his remarks and a prayer by Chairman of the Hajj Board, Sheikh I.C. Quaye, the event commenced with the President giving a brief account of his stewardship in the past seven months. His speech touched on several areas including security, economy, education, health, agriculture, etc. but failed to highlight anything under sports.

Local Governance

Speaking on Local governance the President noted that the process of constituting local government is almost complete, with the nomination and approval of 208 out of 216 Metropolitan, Municipal and District Chief Executives. The President also stressed that these MMDCEs will be the last batch to take office under the current system, if the constitutional proposals for reform are accepted and passed. We have to expand full democracy to local government.

Economy

Touching on the economic outlook, the President asserted that macroeconomic indices are beginning to show a turn for the better. "The monetary policy rate (MPR) of the Bank of Ghana has been cut from 25.5 percent to 22.5 percent in the first half of the year.

Inflation has gone down from 15.4% in December 2016 to 12.1% in June 2017, i.e. a period of six months, the lowest in four years. The benchmark 91-day Treasury Bill (T-bill) rate was 22.8 percent in January last year, and has narrowed to 11.9 percent in June 2017, the lowest in 5 years" he said.

"We are encouraged by the gradual decline in the cost of borrowing and the increase in banks' credit to the private sector by nearly 6 percent in the first quarter of 2017, compared to a decline of about 7 percent in the same period in 2016. But we have to continue to work to bring down the cost of borrowing to enable businesses to have access to much needed credit. It is my hope and expectation that these statistics will soon translate into tangible benefits in the lives of Ghanaians" the President added.





Agriculture and Job Creation

After admitting to job creation as his biggest challenge, the President however explained that Aagriculture will necessarily have to provide the majority of the jobs, adding that his government is doing all necessary to pay urgent attention to the modernization of our agricultural practices while extension officers are being employed, for the first time in many years, to provide hands-on support to farmers, and we are generally paying extra attention to every stage of farming.

He also said the one-village-one-dam scheme is taking off in the three northern regions with the rehabilitation of the existing ones that are in sad states of disrepair while the Planting for Food and Jobs programme has registered 185,000 farmers out of the 200,000 targeted with government bearing 50% of the cost of fertilizer for farmers; and to date eighty thousand and thirty seven (80,037) tonnes of fertilizer have been distributed to farmers enrolled on the Programme. Thirty five thousand seven hundred and forty seven (35,747) metric tonnes of seedlings have also been supplied to farmers.



Galamsey

The President appreciated the media coalition against galamsey while pledging his commitment to fighting the menace to the barest minimum. "For my part, I will not relent in this struggle, nor will the Cabinet Committee, headed by that eminent Ghanaian, the Minister for Environment, Prof. Kwabena Frimpong Boateng, which is spearheading government's efforts in this fight." The President said.

Clearing the air the acclaimed $19-billion Chinese loan, the President said his government's plan to find funds to deal with the dramatic deficit in our infrastructure needs accounts for the exploitation of mineral wealth hence the Vice President's visit to China, with a plan to leverage some of bauxite deposits to raise money to tackle the programme for industrialization and the building of roads and other infrastructure.

Creation of 6 new regions

"We have signaled our intention to honour the petitions that have been received for the creation of potentially six new regions; two each out of the Northern and Brong Ahafo Regions, and one each out of the Western and Volta Regions" the President said, charging the Ministry of Regional Reorganization and Development to oversee the demands of all groups and communities that will be affected.

Sale of BOST off-spec products

According to the President, even though investigations have been concluded by the security agencies on the matter of BOST, and the sale of the five million litres of off-spec products, the regulator which is the National Petroleum Authority (NPA), a 9 member Committee, under the chairmanship of Dr. Lawrence Darkwah, Head of the Petroleum Engineering Department, Kwame Nkrumah University of Science and Technology, has been setup by the Minister for Energy to interrogate the matter further

"Amongst others, the Committee is tasked with making recommendations to ensure that we put the era of contaminated and off-spec products behind us, by tackling issues such as: the integrity of the pipeline infrastructure; improving pipeline operations and maintenance; continuous training and skills upgrade of pipeline operators; and implementing improved Standard Operating Procedures, including the controlled evacuation and disposal of products under the direct supervision of NPA" the President said.



Health and Sanitation
The President addressing sanitation issues noted that the huge debts owed to the service providers is hampering their ability to deliver the needed services in a timely and regular manner so government has taken measures to begin to settle these obligations to facilitate the evacuation and disposal of the heaps of refuse in our cities.



Vigilante groups and mob action

Speaking on the general lawlessness perpetrated especially by vigilante groups, the President said he has communicated clearly to the law enforcement agencies, to best deal with such incidents by letting the law take its course without any political interference.

"Then there was the horrendous murder of Major Mahama. I trust and pray that the trauma suffered by the whole nation as a result of the incident will cure us of the barbaric practice of mob justice. It is absolutely essential that we leave the prosecution and punishment of suspected criminals to the Police and the Judiciary" the President said.



After the President's address, 21 journalists from selected media houses in the country asked the President 27 questions.

While some journalists have been commended for asking relevant, well-researched questions, others have been scolded for asking the opposite.

We share with you questions the press asked after the president had touched on a number of issues including security, illegal mining, the economy, the National Health Insurance (NHIS), infrastructure, education and good governance.

Name of Journalist: Nana Kwaku Aduah

Media House: TV3

Question(s): Mr. President, over the past six months, you've been talking about galamsey. How critical is galamsey to you especially when you've put your political career on the line? How important is it for you to see the end of galamsey?

Name of Journalist: Naana Ntiri

Media House: Peace FM

Question(s): Recently, you were rewarded with the Gender Champion in the just ended AU summit. My question is, Mr. President, in your view, what do you think you did to win this award?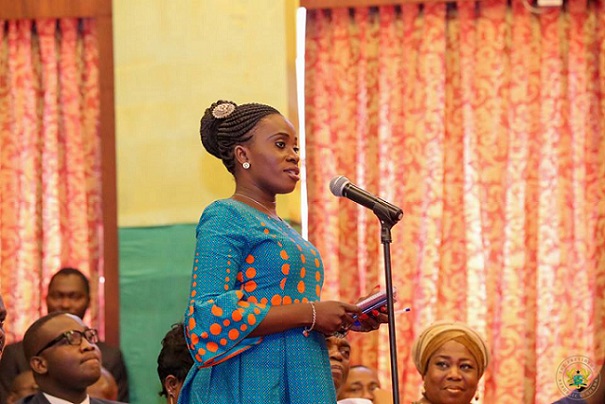 Naana Ntiri

Name of Journalist: Wilberforce Asare

Media House: EIB Network

Question(s): When you took office, the Attorney General department, particularly, state attorneys were on strike. You managed to get them to call off the strike with promise that their award from the National Labour Commission will be addressed. It appears that it has still not been addressed yet. Linked to that, I think is the issue about law school students writing exams into the Ghana School of Law. It appears there has been a turf war between law students and the General Legal Council. Being a lawyer yourself, we want to find out from you, is there anything you can do to step in this matter and help law students in Ghana?

Name of Journalist: Bernard Avle

Media House: Citi FM

Question(s): Mr President, I remember during the campaign, yourself and the Vice President expressed worry about the level of debt that Ghana was incurring and among other things you said that because of the mismanagement we were having to borrow and then we have enough internal resources and therefore we should block the loopholes.

Permit me to give you some figures, in March this year we went for Ghc1billion 3-year bond. In April a $2.25billion dollar bond which translates into Ghc10.25 was announced. In the same month, we announced a $2.4million bond to clear legacy debts in the energy sector, translates that to Ghc12billion.

Last week we were told there is a Ghc17.4billion bond being sought for T3. Putting all the figures together in Ghana Cedis, that's about Ghc40billion if all these bonds go through.
The last time I checked our GDP was about Ghc80billion. If within the first quarter of the first year we are already borrowing up to half of our GDP. Where are the internal resources, how much resources have you generated internally, why are we still borrowing this much?



Name of Journalist: Adel Kwesi Majdoub

Media House: Metro TV

Question(s): Mr. President, my first question has to do with the issue of open defecation in the country. Ghana has passed to be a major tourism hub on the continent but this issue is bedeviling the country. Several measures have been put in place and it's still on the ascendency. Mr. President, I want to know the measures that your government will put in place to ensure that this is curbed.

In relation to that, Mr. President, there is a project which was started under the administration of President Kufour – The Accra Sewage Improvement Project. Several years down the line, this project which is ultimately aimed at ensuring that houses in the city have toilet facilities has not been realized. What are the measures you will put in place to ensure that this project is realized and its impact felt?

Finally, on the railway sector, Mr. President, issue of encroachment of lands along the railway lines. This issue if not watched, may lead to major disaster. As your government takes measures to ensure that the railway sector is revamped, Mr. President, how are you going to ensure that encroachment on railway lines is curbed in a way and manner that Ghanaians and those who will be affected will see that it is a necessity and not insensitivity on the part of your government?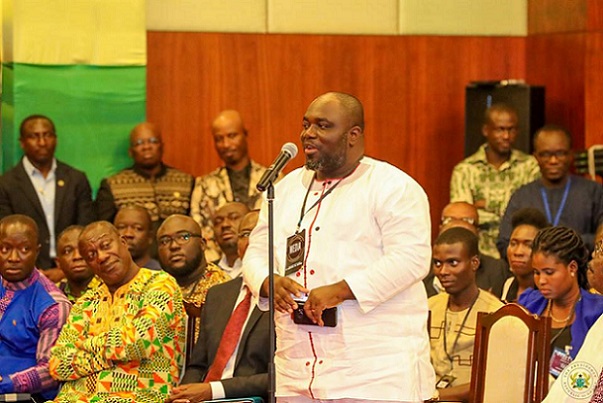 KABA

Name of Journalist: Kojo Asare Bafour Acheampong (KABA)

Media House: Asempa FM

Question(s): Prior to coming to office, a lot of your critics and admirers alike construed you to be "a very wild person" and now coming to office, a very good admirer of yours and a very good supporter of the NPP sent me a message that, that wild nature known about the president, Nana Addo Dankwa Akufo-Addo seems to have fizzled out and you seem to have been tamed by the presidency. Have you been tamed, Mr. President?



Name of Journalist: Nana Esi Boateng

Media House: Oman FM

Question(s): Some Ghanaians have called for the removal of former government appointees who are still in strategic positions in your government and their reason is they could hinder the progress of your vision. My question is, would you heed to their call or stand by your principle of all-inclusive government?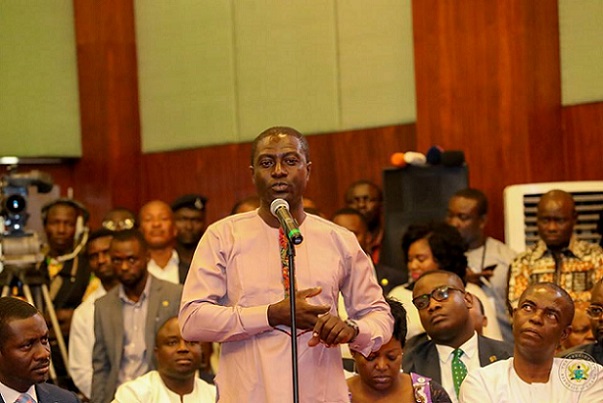 Captain Smart

Name of Journalist: Captain Smart

Media House: Adom FM

Question(s): Our emergency medical services in this country is actually collapsing. A country of 27 million people, as at 8pm yesterday, we were operating only 31 ambulances in this country. By statistics, we are losing over 3000 lives every year for the lack of ambulances with about 662 innocent pregnant women also losing their lives. Mr. President, my question is, what is your administration doing for a country like Ghana to procure more ambulances to save the ordinary Ghanaian who voted for you? And finally, when is the Woyome money coming back?



Name of Journalist: Thomas Naadi

Media House: BBC

Question(s): Are you not concerned about the size of your government considering the struggling state of the Ghanaian economy?

Name of Journalist: Charles Takyi-Boadu
Media House: Daily Guide

Question(s): Mr. President, one of the things you complained about was the fact that corruption was so endemic in the country during the previous administration. Being in government for six months, I have not seen a single person standing prosecution for some of these things. Is it the case you are waiting for the Special Prosecutor's office to be set up or you are still gathering evidence?



Name of Journalist: Stella Wilson Agyapong

Media House: KenCity Media

Question(s): Mr. President, election after election, I witness desperate and frustrated people who want to go and exercise their votes. Indeed we have people that travel to their polling stations and their names are not in the book. I know there is the National Identification System going on. You are known to be a reformist so I believe that this is possible under your watch. Is there anything in the process that will allow people to vote from wherever they are so that they don't have to travel to the length and breadth of our country to go and exercise their vote? Indeed, it's a desperate situation and I think we have to look at that. Is there anything that you have in the process?

Name of Journalist: Kwesi Pratt

Media House: Insight Newspaper

Question(s): Mr. President, for some time now, Morocco has been pushing for de-recognition of the Sahrawi Arab Democratic Republic. Would your government bow to the Moroccan pressure? And is your government in any way involved in the move to admit a colonial power to ECOWAS?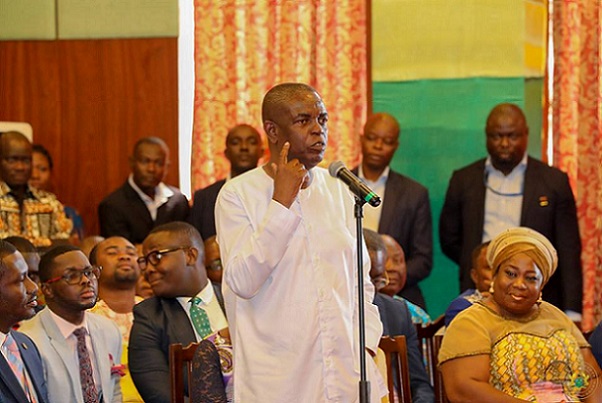 Kwesi Pratt

Name of Journalist: Abdul Ahmed Moomen

Media House: GBC

Question(s): I'm just curious that six months into your government and two months before the implementation of a major policy, which is the Free Senior High School education, even at this forum, almost nothing has been said about it. I'm curious, again, that for a government that campaigned on the back of free high school in 2008 and 2016, as we speak people, especially where I come from, rural folks are still not sure whether the standard of qualification to enter senior high school, the cutoff point is aggregate 30 I believe, and that all of a sudden, the government that promised free senior high school is giving us a new cutoff point. People are anxious, Mr. President, that are you going to deny a section of Ghanaians senior high school because you are making it free for just a section of Ghanaians?



Name of Journalist: Kwame Adinkra

Media House: Abusua FM

Question(s): All the roads in the garden city are vast deteriorating. President Kufour decided to build some interchanges to give Kumasi a face-lift. I want to find out whether there is a comprehensive policy of your government to continue these projects especially with the interchanges to complete the inner ring road of the garden city to give it a face-lift.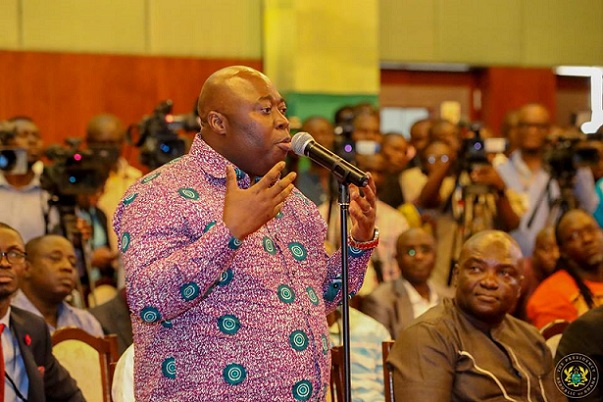 Kwame Adinkra

Name of Journalist: Ekow Moses

Media House: Bloomberg News

Question(s): In your statement, you said you were shocked by the state of affairs on assumption of office. Here you are with an IMF program that for all intends and purposes seeks to sort of limit certain aspects of your programs. This same thing seems to be suggesting that you have an extension of the program. In the scheme of things, where does this fit? How much of a blessing or otherwise has this program been all in the context of your rhetoric that you are building a Ghana without aid and not to mention that some of our agencies have been accepting certain aids from China and the rest.



Name of Journalist: Victor Kwawukume

Media House: Daily Graphic
Question(s): I want to find out, what is the state of the Vice President's residence behind the police headquarters?



Name of Journalist: Evans Mensah

Media House: Multimedia Group

Question(s): One question on the BOST issue. The regulator, ICA established a fact that the MD sold the contaminated fuel to two unlicensed firms yet the BNI said he did no wrong, a decision that has been endorsed by the Energy Minister. Do you also endorse the BNI report? Plus, the manifesto of the 2016 was themed, 'Change: An agenda for jobs'. How many jobs have you created in the last six months?



Name of Journalist: Nana Akua Afriyie

Media House: EIB Network

Question(s): Listening to the President, I was expecting to hear something on sports which I didn't. I want to find out, is the NPP government yet to do something in sports? Question number two, prior to the coming of the government, the NPP wrote a letter to the Italian Prime Minister in connection with the ENI contract. I want to find out, is ENI under investigation? If yes, for what?

Name of Journalist: Kwame Osei Bempah

Media House: Kantanka TV

Question(s): Mr. President, I want to ask you about pensions. If you look at the conditions of pensioners in the country, you will know it's nothing good to write home about. What I have observed is that because our pensions are linked to our salaries which are normally inadequate, for that matter when people go on pension, they mostly suffer. In other jurisdictions, they take resources from other sectors and put it in a fund to support pensioners. For example, in Norway, they take money from their oil and set it up in a fund purposely to support old age and pensioners. I want to find out from you what we are doing as a country in the area of pension to sustain our people who have dedicated their lives in serving the motherland for lot of years.

Name of Journalist: Nana Aba Anamoah

Media House: GhOne TV

Question(s): In the run-up to the elections, you made a number of campaign promises. Key amongst them was the 'One district, one factory', one you said wielded the potential to turn around the economy. There hasn't been much elucidation on the progress made so far. I'd like to know from you what the status of that policy is.

Also, the honorable Member of Parliament for Assin North, Mr. Kennedy Agyapong has been making a number of utterances on radio. The latest was that you haven't nominated enough people from the Central Region. How do you feel about his utterances? Do they irritate you or do they affect the thinking of your government?



Name of Journalist: Afia Pokua

Media House: Adom FM

Question(s): Your opponents have been making comments, criticisms against you in the last three months and they say that since you assumed office, your government has been characterized by anarchy, chaos and lawlessness. They cite a couple of issues; one of them is the Delta Force issue. They go beyond that and cite Major Mahama's death as another example and also internal wrangling in your party. And one other example that they cite which a member of your own government, Hon. Amewu has confirmed to us that it's obvious it was bugged, there is confusion about the bugging of the office. We have had calls to question whether this office we are sitting in is bugged or not and whether we are safe here or not. Mr. President, my question to you is, are we safe as a people? Are you safe in this office?