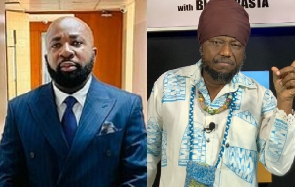 A presidential staffer, Charles Nii Teiko Tagoe has become the latest person to hit out at reggae artiste, Blakk Rasta.
According to him, Blakk Rasta owes award-winning rapper, Sarkodie an apology for claiming that his feature on Bob Marley's 'Stir It Up' track is a desecration of the legend's work.

Reacting to Blakk Rasta's claims in a Facebook post, Charles Tagoe posited that the radio presenter owes Sarkodie an apology given the kind of songs he (Blakk Rasta) sings.

"Dear Charles Takyi-Boadu, Extend my warm greetings to the Abusuapanin of the Bob Marley family nationwide, Abusuapanin Blakk Rasta. Please tell him that the least he can do right now, is to use the same medium, platforms and just render an unqualified apology to Sarkodie. After watching this video, I don't think he even qualifies to call himself a Reggae artist. I wonder what Bob Marley himself will say after watching this video. Tell him to just apologize to Sarkodie!" he shared along with a song by Blakk Rasta in which the reggae artiste sings in a language purported to be Chinese language.

Sarkodie's feature on 'Stir It Up' has received massive reactions from music lovers and critics alike.




GA/SARA