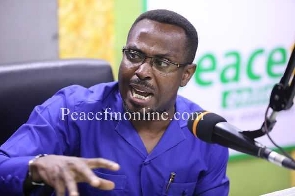 There is no indication that Central Regional Minister, Kwamena Duncan will let former President John Mahama be as far as the Airbus Bribery Scandal is concerned.
Kwamena Duncan has been hot on the heels of the former President after the scandal broke.

His criticisms also stem from the fact that the flagbearer of the NDC has kept mute on the issue despite several allegations, from especially the camp of the ruling New Patriotic Party, that he (Mahama) is indeed the one described as "government official 1" in documents pertaining to the infamous saga.

Contributing to a panel discussion on Peace FM's morning show 'Kokrokoo', the Central Regional Minister says he cannot erase from his memory, the fact that Mahama was linked to the scandal and that when he "sees him, he sees the airbus".
"So can Mahama ever accuse someone of corruption after airbus scandal, because when I see him I see airbus. I cannot see how in our national politics; he could command the moral grounds let alone in our international politics," he intimated.