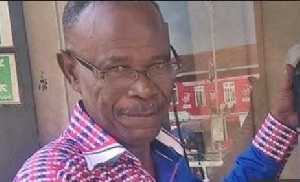 Deputy General Secretary of the opposition National Democratic Congress (NDC) in charge of operations, Koku Anyidoho is at a loss as to why embattled Ghana's High Commissioner to South Africa, George Ayisi-Boateng has suddenly gone quiet.
According to him, the man who stood by his divisive comments should also have been heard on radio admitting he authored the apology as he did to the comments when the issue first came up.

"Has he suddenly become deaf and dumb that he cannot admit he made those comments or authored the latter? The man was in Kumasi bragging he has not rendered any apology or retracted his comments but we are all here saying he has apologized", he observed on a local radio station.

Mr Anyidoho said he does not believe in the apology and retraction and will only accept the contents if George Ayisi-Boateng comes public to admit he wrote and signed the apology that was circulated in the media.

Mr Ayisi Boateng who was addressing NPP, Tertiary Students' Confederacy Network (TESCON) at the Kumasi Technical University a fortnight ago it would be recalled reinforced the point that his priority in terms of jobs will be members of the elephant family.
"Indeed I'm not boasting, but I've started meeting the NPP groups. Every weekend I meet some group members and I tell you if I had my way, every job opportunity that will come will go to a TESCON member before any other person. And I know my colleague appointees also have the same feeling except that because of IMF we cannot do anything now," he said.

"A TESCON member is my priority, an NPP member is my priority. We are all Ghanaians but some are more Ghanaian than others….this government is doing its best to create job opportunities and me for instance, I told my people over there [that], it is because of NPP that I'm here, so the NPP man is my priority. I told them when NDC was in power it was Kwesi Ahwoi who was there, now we are in power, so Ayisi-Boateng is here with you. My topmost priority is the problems of an NPP person before any other Ghanaian take it or leave it," he said.

He was later forced following public pressure to apologise and retract the comments but Mr Koku Anyidoho believes a written letter is not enough to atone for what he has done.