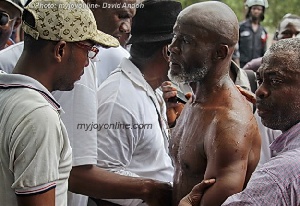 Influential Nephew of president Akufo-Addo, Gabby Asare Otchere is asking former President John Mahama of his whereabouts when he was whipped at a Let My Count Alliance protest and during the Talensi By-election, MyNewsGh.com has filed.
Gabby Asare Otchere Darko who was part of protesters of the Let My Vote Count Alliance were whipped in Accra in an "unprovoked and barbaric" attacks by the security forces. Police claimed they deviated from an agreed route for their demonstration.

The LMVCA, police say, were heading towards the Electoral Commission – an unapproved route.

Following in incidence of violence, Gabby Asare Otchere Darko is asking what then President Mahama did when it occurred under his watch.

"When some of us were shot at (multiple times) in front of the NPP constituency office by drive-by NDC thugs right in front of armed security men (soldiers and police), speeding through security check barriers on July 7, 2015 during the Talensi by-election; when some of us were beaten up by police officers for holding a peaceful street protest for a clean electoral roll on September 16, 2015; on just these two back-to-back events where some us were personally at the receiving end, we did not hear the President, John Dramani Mahama, make a statement condemning any of the attacks and calling for investigations to be conducted. If he did then all good. But, we are still waiting for the findings," He wrote.
"If he did condemn the attacks and conducted enquiries, please kindly direct us to the links. Both attacks. What is wrong is wrong. Don't pick and choose. Not a single person, as we recall, was arrested and/or questioned beyond the reports some of us made to the Police. Please, share the reports if the contrary was the case."