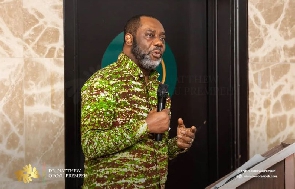 The decision of the government to incentivise the reporting of gold smugglers by offering rewards to whistle blowers has sparked discontent among small-scale miners in the industry.
These miners have expressed their dissatisfaction with this approach, citing various challenges they are currently facing.

The ongoing Oil-for-Gold deal, implemented by the government to stabilise petroleum product prices, has inadvertently affected the ability of small-scale miners to sell their gold.

As a result, the President of the Small-Scale Miners Association, Mr Michael Kwadwo Peprah, has conveyed the association's displeasure with the government's decision announced by the Minister of Energy, Dr Mathew Opoku Prempeh.

Mr Peprah explained that the government's strategy of rewarding informants lacks practicality, as miners are struggling to find buyers for their gold due to the impact of the Oil-for-Gold deal.

He emphasised that miners are unlikely to report smugglers to the government, especially since the government itself is not actively engaged in buying gold.
He highlighted the lack of activity at the Precious Mineral Company office in the Ashanti Region, noting that the sector's overall operations have diminished.

He questioned the logic of miners reporting buyers of their gold when the government's policies have hindered the market's functionality.

Mr Peprah also criticised the government's handling of licensing in the mining sector.

He revealed that the government has not renewed the licenses of exporters for the past year due to the Oil-for-Gold deal.

This, he maintained, has created a situation where miners are left with limited options to sell their gold legally.
Furthermore, Mr Peprah accused certain government officials of being involved in gold smuggling syndicates within the country.

Mr Peprah took issues with the government's decison speaking in an interview on The Citizen's Show hosted by Nana Ama Agyarko on Accra 100.5 FM on Thursday, August 24, 2023.

He pointed out that despite the government's claims of allocating funds to the Bank of Ghana for purchasing gold from miners, no substantial action has been taken in this regard.

He attributed the declining activities in the sector to the crackdown on illegal mining (galamsey), which has led to legitimate miners having their equipment seized and categorised as illegal miners.

''Many of these seized machines are deteriorating at the mercy of weather," he said.