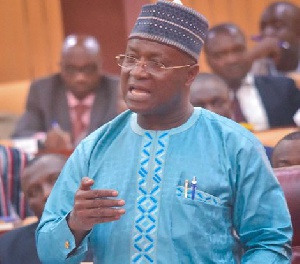 Minister for Parliamentary affairs and Majority leader, Osei Kyei-Mensah-Bonsu, says whoever signed the deal of Gitmo 2 with the US government should be charged with perjury considering the manner in which it was done.
"The NDC didn't tell us the truth, therefore, if we should pursue the case before the law courts, whoever went there and hid the truth could be cited for perjury". He disclosed this in an interview on Kumasi-based Angel Fm.

He revealed that the American government has stopped supporting Ghana in taking care of them adding that, because the previous government also granted them a refugee status it is making it difficult for the current government to send them back.

"Considering how the NDC signed the deal, they have now made everything complicated for the government. We the New Patriotic Party (NPP) thought we could send them back after two years but the American government has said sending them back is not an option anymore. NDC didn't make things clear to Ghanaians". He revealed.

On the other hand, some members of the NDC have opined that there are still options available for the current government to repatriate them.
Kyei-Mensah-Bonsu indicated that the two, Mahmud Umar Muhammed Bin Atef and Khalid Muhammed Salih Al-Dhuby refused to leave the country for Morocco because according to them, their colleagues who were sent to that country were maltreated.

"The Moroccans accepted some of their members and according to them, they have not been treated well adding that some of them have even fled the country," the Majority Leader revealed.

Revealing the dangerous aspect of the two, Mr. Kyei-Mensah-Bonsu hinted that, they are networked throughout the world with other members from their previous camp.

He further noted Ghana is now looking for lawyers who have a broader knowledge of international laws regarding refugees to help the country repatriate the two.