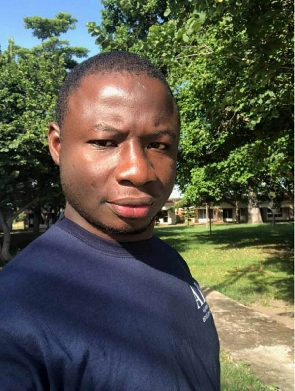 GhanaWeb Feature
Ahmed Hussein-Suale's death on January 16, 2019, remains one of the most chilling, recent references any time there is talk about oppression of the press, or on matters such as press freedom.

While the dockets of the case still sit in Ghana's courts, gathering dust from the prolonged justice it is being denied of, it seems the investigative journalist may not truly be resting in peace.

On one end of things, there is this unsettled claim and allegation that the Member of Parliament for Assin Central, Kennedy Agyapong, may have played an instrumental role in the murder of the former partner of celebrated undercover investigative journalist, Anas Aremeyaw Anas.

On the other hand, all that the media fraternity, friends, and the family of the late Ahmed Suale want is that justice is served and the perpetrators of that dastardly act are brought to book.

But news headlines have been replete with the name of the slain journalist in the past week, although it is not because of any peculiar reason, particularly when the anniversary of his death was weeks ago.
So, why is he so much in the news?

I paid Ahmed Suale's school fees unknowingly – Kennedy Agyapong reveals:

At the start of February 2023, Kennedy Agyapong made news headlines when it was reported that the controversial politician claimed that he unknowingly paid the school fees of the former investigator with Tiger Eye PI, Ahmed Hussein-Suale.

The lawmaker said that after publishing Ahmed Suale's photos on Net 2 TV years ago, with the intent of cautioning the public against his ways, his staff notified him that Suale (now deceased) is someone whose university tuition fees he once paid.

Speaking in an interview on Metro TV's Good Evening Ghana, on January 31, 2023, Agyapong said he personally did not recall paying the said fees but his staff insisted that he did.
"When I showed the video on Net2, my workers came to me and told me, Hon don't you know this guy? And I said no. And they were like but he was one of the guys you paid his school fees. I said I don't remember because I always pay people's school fees.

"He came here, he said he was going to the university and you gave him GH¢1,500," one of his staff reminded him, but the MP insisted, "I said I don't remember," before his staff added, "Oh, he has been coming here," he added.

He continued that it was on the basis of the knowledge of Suale coming to his premises that he cautioned; "don't allow him to come here, he will set us up, when you see him, beat him up. This is what I said," he recounted.

But this revelation by the MP angered the family of the slain journalist.

Ahmed Suale's family dares Ken Agyapong over school fees claims:
The family, via a February 1, 2023, statement available to GhanaWeb, described the lawmaker's claims as preposterous and dared him to provide proof to back his claims.

"It is preposterous to hear the claim of Kennedy Agyapong paying the school fees of our late brother. We are very saddened by this comment and wish to state unequivocally that Kennedy Agyapong has never paid any school fees of our late son and brother.

"We dare him to produce any evidence to that effect," the statement issued by Ibrahim Kamilu Tahidu, read in part.

The family thereby warned the lawmaker from continuously using their relative's name and image to advance his political life.

"He should henceforth desist from using name of our brother for political mileage. We therefore call on all well-meaning Ghanaians and the entire world to treat his mischievous comments with the contempt it deserves," the statement added.
The dust on the murder of Ahmed Hussein-Suale's death is yet to settle, but once again, it is Kennedy Agyapong who is putting himself up to be the man to bring justice to such crimes as that of the journalist.

"What I will do if I'm elected president is I will encourage the police to investigate the case to the bottom to uncover everything… I wanted to tell you that if I'm elected today, whether the case is dead or not I will bring it back again to investigate.

"The problem is if the president shows interest, the police will work and I will show interest. I will show interest because it is me who has been accused, it is important to exonerate myself," he said in relation to Ahmed Suale's death, as well that of a former Member of Parliament for Abuakwa North, JB Danquah-Adu, who was killed in his home at Shiashie on February 9, 2016.

Will this be the last from the Assin Central lawmaker on the Ahmed Hussein-Suale case, or there will be more? No one can tell but one thing is clear, while the court works at arriving at a verdict on the case, it is expected that at the least chance, Kennedy Agyapong will also make any possible attempt to 'clear his name.'

AE/WA