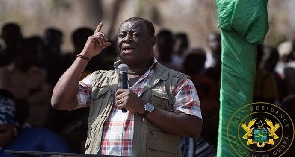 Richard Manuribe, a communicator for the National Democratic Congress (NDC), has stated the supposed reason why the Minister for Roads and Highways, Kwasi Amoako-Atta, wants to reintroduce road tolls after he unilaterally cancelled them in November 2022.
Speaking in an XYZ TV interview, which GhanaWeb monitored, Manuribe said that the roads minister knows that he is a candidate for jail if the New Patriotic Party (NPP) does not win the 2024 elections.

He added that Amoako-Atta has now realised that the NDC will come to power in 2024, and he is bringing back the tolls to save his skin.

"He (Amoako-Atta) is trying to escape jail; that is what is happening (with the reintroduction of the tolls). He knows that come December 2024, the good people of Ghana will go and vote for John Dramani Mahama as president.

"So, if he doesn't put things right, he is a candidate for jail. We told him that what he was doing (cancelling the tolls) was illegal, but he did not listen. The toll was an article of the constitution, but he cancelled it without going through Parliament.

"The man is escaping jail. Look at the new tolls; he has increased all of them because he wants to recover the monies lost," he said in Twi.
The NDC communicator made these remarks while reacting to a press statement by the Minister of Finance, which indicated that the tolls would be reintroduced.

In the press release sighted by GhanaWeb, the finance minister wrote to the Ministry of Roads and Highways to confirm the approved fees as tolls on roads and bridges will be reintroduced this year.

According to Ken Ofori-Atta, "It is provided under Section 6 of Act 1080 for the Minister to amend the schedules of the Act to include or exclude MDAs and/or adjust the fees and charges collected by MDCs for their services through a Legislative Instrument when necessary."

"Accordingly, this ministry has initiated steps to provide for foundational rates for tolling of roads and highways as part of the amendments of the Act, pending completion of the process to identify the rods and highways to be affected by the reintroduction of the road tolls as stated in the budget," he added.

The approved fees and charges for motorbike users is 50 pesewas instead of 19 pesewas.
Saloon car users will pay a fee of GH¢1 rather than the previous 50 pesewas fee.

Pick-ups/4x4 vehicles and light bus users will be charged GH¢1.50 pesewas when the toll booth reopens.

Drivers of heavy buses will also pay GH¢ 2 instead of the GH¢1.50 pesewas they used to pay.

For drivers of medium and heavy goods trucks up to 4 axles, the fee to be paid will be GH¢3 instead of GH¢2.

Watch the interview below:


You can also watch this episode of People & Places here:



IB/SEA