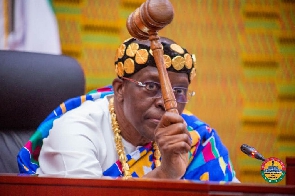 One of the first things the Speaker of Parliament, Alban Bagbin, did on Tuesday, February 7, 2023, when the House resumed sitting for the year, was to communicate a letter from President Nana Addo Dankwa Akufo-Addo to the members.
The letter, which was to announce some major changes the president had made to his government, detailed the nominations of a few people, such as Kobina Tahiru Hammond and Stephen Amoah as Minister of Trade and Industry and his deputy, respectively.

It had become necessary, as the president's letter to the Speaker of Parliament, Alban Bagbin, said, after the resignations of three of his ministers in the last month.

With the announcements, which also included the appointments of Osei Bonsu Amoah as Minister of Food and Agriculture and Stephen Asamoah Boateng as Minister for Chieftaincy and Religious Affairs, the Speaker of Parliament expressed his congratulations to the members.

He did so due to the fact that all the new appointees were Members of Parliament.

But the Speaker had more to say than this when he wished them – the all-men appointees - the best of luck as they go through the vetting processes ahead of their confirmations or not by parliament.

Having been interrupted a few times during his reading of President Nana Akufo-Addo letter to the House, Alban Bagbin stated that, from observing how excited the National Democratic Congress (NDC) MPs – the Minority, were, it was indicative that they would easily approve the nods of these nominees.
"Honourable members, I accordingly refer this communication to the Appointments Committee for consideration and report to the House. I want to, on behalf of members, congratulate the Members of Parliament who have met the high consideration of His Excellency and have been given the opportunity to go through the vetting by this House.

"I hope all of you will pass. It's only a hope, but since the Minority were jubilating more than the Majority, it's an indication that you may go through," he said.

It is common knowledge that members of the Minority in parliament are usually very tough on nominees of the president, who appear before the Appointments Committee of Parliament.

This situation, however, is one that the Speaker of Parliament feels could change, especially with this new crop of appointees.

It is also worth mentioning that in recent times, many Ghanaians, including MPs, have been appealing to Nana Addo Dankwa Akufo-Addo to effect a major change in his government.

The calls for the president to announce a reshuffle of his appointees have stemmed from a number of issues, one of which is the fact that since he took over power, in January 2017, he had not announced any major changes to his government.
There have also been the assertions that keeping the appointees at the same post for so long has been a panacea to their engagements in corrupt practices, or the fuel for their non-performances.

You can also watch this edition of People & Places on GhanaWeb TV:



AE/BOG