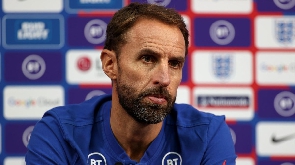 Head coach of the Three Lions of England, Gareth Southgate, has revealed that he considered resigning from his position before the start of the 2022 FIFA World Cup in Qatar.
According to the former England captain, the criticisms were too much for him to bear and he didn't want his presence to affect the progress of the team with their target of winning the World Cup.

"I never want to be in a position where my presence is affecting the team in a negative way. The last thing you want as a manager is that your presence is divisive and inhibits performance."

Gareth revealed in the interview as quoted by the BBC that he thought about it and decided to soldier on and fight for his country because being the head coach of England is his greatest privilege.
"I didn't believe that was the case, but I just wanted a period after the World Cup to reflect and make sure that was still how it felt, being the coach is the greatest privilege of my life," he ended.

Gareth Southgate and his Three Lions were eliminated from the quarter-final stage of the 2022 FIFA World Cup by France.