Why Otumfuo decided against flying over 12 Bangladesh engineers to install machines in his fruit factory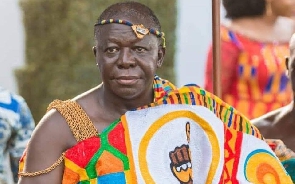 The Asantehene His Royal Majesty Nana Otumfuo Osei Tutu II has highlighted his strong belief in the skills and capabilities of Ghanaians, emphasizing the need to provide them with opportunities and empower them to contribute to the development of their own country.
During the induction ceremony of the first Vice Chancellor of the Akenteng Appiah-Minka University of Skills Training and Entrepreneurial Development (AMUSTED) on May 26, 2023, Asantehene Otumfuo Osei Tutu II revealed how he opposed the idea of bringing in Bangladeshi engineers to install equipment for his fruit processing factory in the Atwima Kwanwoma District of the Ashanti region.

According to a report by Opemsuoradio.com, the Asantehene said he made his stance clear, stating, "I'm building a juice factory and they had to bring people from Bangladesh to come and install the machines. When I was informed, I told them, 'No. I'm not happy with that. We can get some people here to do it.'"

He firmly believed that Ghanaians were capable of undertaking the installation work and insisted on their involvement.

Despite being informed that the machines were imported and required foreign expertise for installation, Asantehene was resolute. He expressed his objection, saying, "You cannot bring 12, 15 people from Bangladesh to install a machine when I can get people here."
As an alternative, he proposed utilizing the skills of students from the Kumasi Technical University (KsTU) and suggested involving the students and teachers of the newly established AMUSTED for the task. He believed in the capabilities of Ghanaians and emphasized the importance of providing them with opportunities.

In a gesture of support, Asantehene offered his two processing factories, the Bodukwan Multi Fruit Processing Factory and the Bodukwan Jute Factory, both located at Sabin Akrofrom, to AMUSTED for practical training purposes.

He invited the university's management, saying, "I'm going to engage you. Train and bring your students there, let them come and do practicals there. Bring the students you are teaching there."

GA