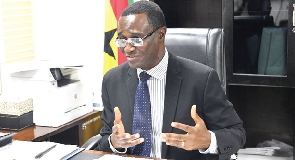 Michael Nii Yarboi Annan, a former New Patriotic Party (NPP) parliamentary candidate aspirant for Odododiodoo, has questioned why the Ghana Revenue Authority (GRA) has not reacted to allegations that the secretary to the Board of Trustees of the National Cathedral of Ghana, Rev. Victor Kusi Boateng, has two Tax Identification Numbers (TINs).
According to him, if the allegations are true, then it means that there is a huge flaw in Ghana's taxation system that criminals might exploit to evade taxes.

Yarboi Annan, who made these remarks in an interview on Radio Gold, which was monitored by GhanaWeb, added that any ordinary Ghanaian would be arrested if s/he has two Tax Identification Numbers under different names.

"What has happened now and what I am hearing now exposes our tax system big time, and I'm surprised that the GRA has not moved in.

"Because the TIN form is a declaration, it is like you have gone to court, put your hand on the bible, and said that I'm going to speak the truth. and you are caught lying, what happens to you?

"Again, it tells you that people can evade taxes in this country very easily if they can, under our tax system, have two personalities, and the system is not even able to determine whether they are related parties," he said.
The former NPP parliamentary candidate was reacting to allegations by the Member of Parliament for North Tongu, Samuel Okudzeto Ablakwa, that Rev. Kusi Boateng has been operating under the pseudonym Kwabena Adu Gyamfi for criminal purposes.

The MP alleged that the clergyman had two Tax Identification Numbers, one in the name of Kwabena Adu Gyamfi and the other in the name of Victor Kusi Boateng.

"On the 13th of August, 2013 when he filled his Taxpayer Registration Form at the GRA under the name Victor Kusi Boateng with a date of birth of September 7, 1971; he declared that his mother's maiden last name is Ataah, and her first name is Agnes.

"He was subsequently given a Taxpayer Identification Number for his Victor Kusi Boateng name as P0002502682.

"Curiously, on the 24th of March, 2016 he returned to the GRA, this time with the name Kwabena Adu Gyamfi and a date of birth of December 30, 1969. He strangely declared a different biological mother with a maiden last name of Gyamfua and a first name of Yaa.
"This is how he secured another TIN — P000627241X," parts of a post shared by Ablakwa on social media read.

Watch the interview in the video below:





IB/BOG