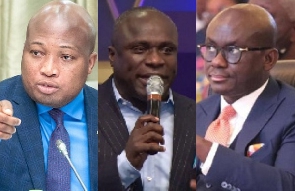 The Member of Parliament (MP) for North Tongu, Samuel Okudzeto Ablakwa, has taken a swipe at the Attorney General and Minister of Justice, Godfred Dame, over the prosecution of ousted MP for Assin North, James Gyakye Quayson for allegedly deceiving public officers.
Ablakwa accused the Attorney General of being selective in the choice of cases to prosecute - favouring those that do not affect proponents of his party, the New Patriotic Party.

Ablakwa, who made these remarks while speaking to the media in Accra, on Tuesday, June 20, 2023, said that Dame has turned a blind eye to the case of the secretary to the Board of Trustee of the National Cathedral of Ghana, Rev Victor Kusi Boateng, whom he has proven, deceived public officers to acquire national documents.

"You know the revelations I have made on the National Cathedral and somebody claiming to be called Rev Kusi Boateng and Kwabena Adu Gyamfi. If there is any matter which has to do with deceit of public officers, any matter that has to do with false statutory declaration, the Attorney General has not seen this. There is no prosecution happening in that case.

"What kind of justice do we have in Ghana? A different set of justice for persons associated with the ruling party, the friends and cronies of the president and agents and members of the NPP. They have a different set of justice, a different set of judicial treatment and the rest of us come under a different set of rules, set of justice architecture," he said.

The MP also slammed the judiciary for supposedly allowing themselves to be manipulated by the ruling New Patriotic Party (NPP) government.
He said that the court has been manipulated to fast-track the trial of Gyakye Quayson while it has ignored cases which are of national importance like the one he filed with other MPs which seeks to declare the passage of the E-Levy unconstitutional.

He added that the case of the former Chief Executive Officer of MenzGold, Nana Appiah Mensah (NAM1), which affected millions of Ghanaians and has been in court for over three years is not deemed urgent by the court.

The MP, in his exposés on the National Cathedral of Ghana, has accused Rev Kusi Boateng of operating a double identity under the pseudonym Kwabena Adu Gyamfi.

Ablakwa alleged that the secretary to the Board of Trustees of the National Cathedral had deceived public officers to obtain two passports, under his two names as well as Tax Identification Numbers, Birth Certificates and driver's licenses.

Watch the MP's remarks in the video below:


You can also watch this video on the impact of climate change on sea life:





You can also watch the latest episode of People & Places here:




You can also catch up on the third episode of Everyday People below:






IB/DA