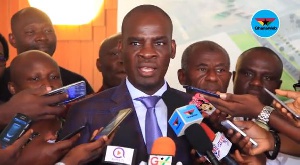 The Minority in Parliament has again urged government to release the Justice Emile Short Commission report on the Ayawaso West Wuogon by-election violence.
The Minority in Parliament at a press conference on Wednesday called on President Nana Addo Dankwa Akufo-Addo to immediately publish the report of the Emile Short Commission.

According to them, the findings and recommendations of the Emile Short Commission report would enable Ghanaians to chart a path towards ending politically related violence.

Mr James Agalga, the Ranking Member on Parliament's Defence and Interior Committee, and Member of Parliament for Builsa North Constituency, speaking at the press conference said "any attempt by the Executive to stampede Parliament into enacting legislation on political vigilantism without recourse to the Emile Short Commission's Report could only result in the enactment of half-baked legislation not capable of dealing sufficiently with the problem."

Reiterating the minority's demand in an interview on Citi Eyewitness news, Thursday, Haruna Iddrisu said it is within their right to request for the report.
"I am surprised that the media; you are demanding accountability . . . We have every right that we want to know what exactly happened . . . It is in the interest of good governance," he said.

"What is compelling is that the vigilantism bill presented to Parliament in its explanatory memorandum makes reference to the Ayawaso West violence commission report and findings."

"This findings and recommendations have not been made public to Ghanaians. How does it inform legislation? Why did he form the Commission," he questioned and added that if the President believes in accountability, he will make the report public.