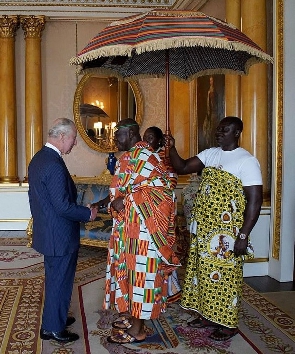 The Asantehene, Otumfuo Osei Tutu II, is being bashed on social media after a picture of him under an umbrella in a closed-door meeting with the King of Britain, King Charles III, went viral.
Some social media users are surprised the Asantehene was covered with an umbrella even in an enclosed room.

But is the use of the umbrella in the Ashanti Kingdom only for outdoor events to protect the king from extreme weather conditions?

According to literature, the use of the umbrella by rulers in the Ashanti Kingdom is very symbolic and is not just to protect kings against extreme weather conditions.

Here are some of the reasons for the use of the umbrella in the Ashanti Kingdom:

A variety of umbrellas, called 'kyinyɛ' in the Twi dialect, was developed by the Akan in response to the need to provide a cover or canopy for their chiefs and kings.
The Asantehene has a wide range of umbrellas which symbolize significant traditions as well as the authority of the overlord of the Ashanti Kingdom.

The Prɛkɛsɛ umbrella was made for King Opoku Ware with 'prɛkɛsɛ' as the ntuatire and it symbolizes the Asantehene's omnipresence and omnipotence like that of the 'prɛkɛsɛ', his presence is felt everywhere.

There is also the 'Ɔyɔkoman'. It was made for King Osei Tutu. It signifies that the royal family belongs to the Ɔyɔko clan and as a result, this umbrella represents them.

The umbrella Otumfuo Osei Tutu was covered with when he met King Charles looked like one of the umbrellas from a group of three called 'akrɔnpɔnkyinyɛ' or 'as patom kyinyɛ'.

It is made from two 'ahahrata' leaves and it is used to symbolise unity. The proverb behind it is: "Ahahrata mienu kabom a, ɛyɛ ɔpepe" which translates "when two ahahrata leaves are brought together, they yield thousands; a symbol of unity".
Meanwhile, watch the latest episode of People and Places on GhanaWeb TV below:





You can also watch E-Forum below.








IB/OGB