Isaac Dogboe is a name that almost every Ghanaian is gradually becoming familiar with, even for those who don't and won't describe themselves as huge sports or boxing fanatics.
The young, well-articulated and talented boxer has become the nation's torchbearer in his chosen field, and his dexterity in the ring reminds many a boxing fan of the legendary Azumah Nelson.

Last night, Dogboe produced a sensational display of pugilistic finesse to dispatch and floor Japanese Hidenori Otake in his first defense of the WBO Super Bantamweight title he won in April this year.

Now Dogboe has set his sights on unifying the division and plans to dominate it for many years to come.

However, as Ghanaians continue to jubilate over the new found jewel, the Brits have or at least trying hard to claim ownership of Dogboe.

On Sunday morning, The Mirror, a UK based newspaper wrote an article titled "Isaac Dogboe is the British world champion you've never heard of - but all that is about to change".
This newspaper headline has set tongues wagging, with many Ghanaians angry that the British are 'stealing' what does not belong to them.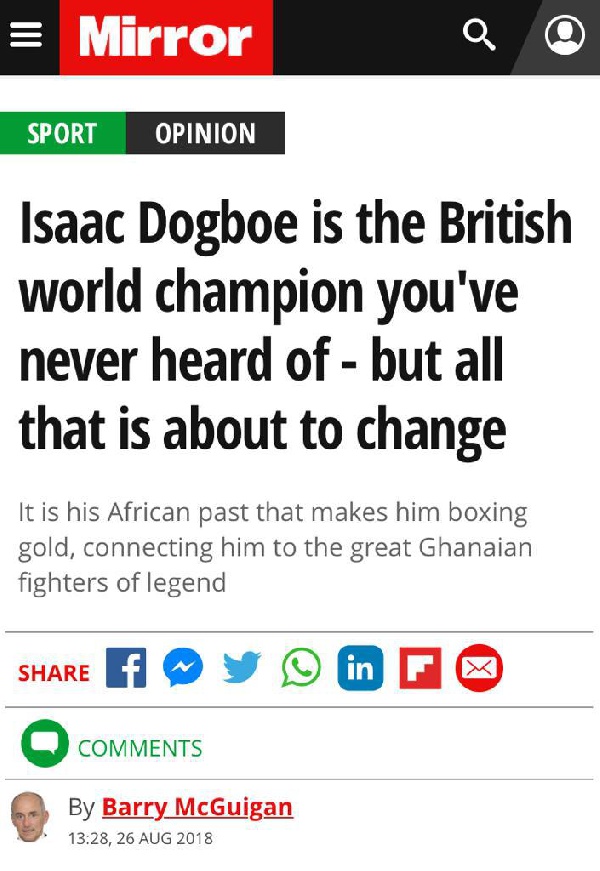 So why are the Brits trying hard to claim Dogboe at all cost? Ghanaweb.com has attempted to shed some light on the matter.

Here are some facts to consider 1. Dogboe was born in Accra, Ghana and spent the first years of his life in the same Bukom neighbourhood that produced the great Azumah Nelson and Ike Quartey. 2. Isaac Dogboe went to Britain when he was seven, he schooled there and was introduced to boxing by his father Paul. 3. Paul Dogboe, the father of Isaac Dogboe was a soldier in the British Army. 4. Isaac Dogboe holds a British passport as well as a Ghanaian passport- which is not uncommon. 5. Isaac represented Ghana at the 2012 Olympics games in London but that was after his attempt to compete for Britain stalled because the Brits told him to wait a little while longer. 6. Isaac Dogboe always goes into his fights carrying two national flags, that of Britain and also the Ghanaian flag. 7. Dogboe carries the British flag to his bouts because he undoubtedly expressed gratitude to England for providing him with all the needed support in his career as a boxer. 8. Dogboe became a professional boxer in 2013 after the 2012 Olympics Games and the Ghana National Anthem has always been observed throughout his international bouts. 9. There was a time when the British High Commissioner to Ghana attended Dogboe's fights with his staff to offer their support. 10. The WBO super-bantamweight champion lives in South London but fights out of his native Ghana.

So you see, technically the Daily Mirror is not wrong to refer to Dogboe as a Brit, but even they know that they cannot fully claim him to be one of their own.