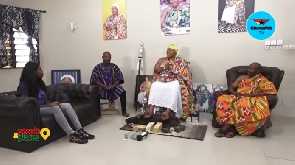 They were warriors who had been to war on a number of occasions, fighting for their own – the Ashanti Kingdom and the Denkyiras.
In fact, they were said to have been warriors for the Asantehene of the Ashanti Kingdom and the Denkyirahene over 100 years ago but a time came when they left.

This was after the Battle of Feyiase between the Ashantis and the Denkyiras.

Some of these warriors are said to have broken away from their kingdom and people, and set off on their own path for a new life.

They eventually met the Ga Dangmes who had already settled at a place called Okor Hwemie and both groups decided to stay together, considering the help they could offer each other.

Speaking on GhanaWeb's People & Places, Stool father of the Paramountcy – Kabiawe Yumu clan in Ada, Numo Israel Kartei Abram Akuako, explaining how this came to be said,
"The Akans, where myself and my queen come from came, they were the Ashantis and Denkyiras and during the Ashanti and Denkyira war, they had an altercation with the King of Ashanti and Denkyira so they left their own blood people and they were looking for a place to also settle. They came to meet the Dangme tribe which came first.

"They were already warriors. They were into war, they were the soldiers of the Asantehene and the Denkyirahene. So part of them are actually from Bantama, like our clan and some were also from the Denkyira," Numo Israel Kartei said.

"They were warriors but they didn't want to fight for the Asantehene and anybody. They wanted to create their own this thing," he added.

"The Akans were led by Kabu to join them (Dangmes) in the Okor Forest. They formed a union and realized they could help each other," he added.

Numo Israel Kartei also noted how the Ada group came to be.
According to him, Ada comprises of the Akan, Ewe and Ga Dangme groups.

"Ada is made up of 3 major different tribes, they are not one tribe that migrated to this place, rather, the first tribe to have migrated to this place were the Dangme tribe and they were with other Ga Dangme people in a place called Lorlovo, in the Eastern Regional part of Ghana, near the Volta River.

According to Numo Israel Kartei, the Akans later joined the and Dangmes and after some time, decided to move out of the forest for a better land to stay on.

They then settled around the plains near Songhor, where salt is mined in Ada today.

Subsequently, some Ewe groups including the Kogbor and Owhoewem people who were also sojourning, looking for a settlement ground, found these persons and decided to join them.
The Ewe story had a slightly different twist he explained, because aside from the Kogbor and Owhoewem people among the Ewes who joined them later, there were already the Kudragbe people who were living on one of the Islands in Ada.

"They later moved to the plains near where the salt is and then the Ewes came to join them.

"The first to come were the Kogbor people (meaning to settle with the Okors) but there was one Ewe tribe called the Kudragbe clan which were already by the riverside there, on the Island. So when the Adas came, they also saw them, they were led by one Ahaviatse, then the Owhoewem also joined them so we have 3 Ewe clans, joining the 4 Dangme clans and then the Akan clans.

You can also watch the latest episode of People & Places here




WA