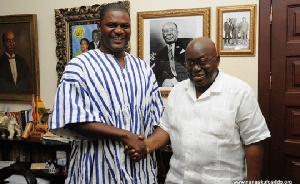 A group known as Friends of Food for Planting and Jobs at Atease, is appealing to President Akufo-Addo to appoint defeated Afram Plains South NPP parliamentary candidate for election 2016, William Hor, as Deputy Agriculture Minister after William Quaitoo has resigned from the position.
According to the group, there's the need to fill the vacancy now with its preferred candidate who is very competent and has diligently served the NPP, before people start to lobby for the position.

The appeal came a few days after Mr Quaitoo called it quits following the pressure on him to resign after he was accused of making unsavoury comments about some farmers in the North Region who complained of fall army worms' devastation of their crops.

Mr Quaitoo who could not bear the barrage of criticisms being poured on him, tendered his resignation on Tuesday evening and it was accepted by President Akufo Addo.
The Spokesperson for Friends of Food for Planting and Jobs, Nana Kofi Owusu in a statement indicated that the group is confident that William Hor who is a veteran farmer and appreciates the difficulties and challenges in farming will make a perfect replacement for Mr Quaitoo.

"He's somebody from Afram Plains, the second food basket of the country who knows the nitty-gritty of farming and knows what army worms can do to crops. If he's made a deputy minister in charge of crops, he'll so much understand the cries of farmers and can suggest better ways of helping them. He also helped the party to win power as he garnered record votes in an area known to be NDC's stronghold in the 2016 elections which accumulated and resulted in Nana Akufo Addo winning power."