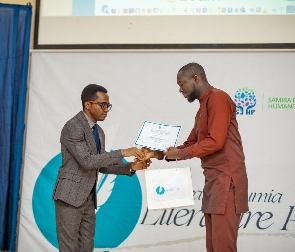 The Samira Empowerment and Humanitarian Project has honoured thirty Samira Bawumia Literature Prize winners at the ISSER Conference Hall at the University of Ghana Legon in Accra.
The winners were drawn from various categories, including Fiction, Non-Fiction and Poetry.

The Literature Prize is a biennial writing competition to support and encourage aspiring young Ghanaian writers while contributing to the growing Ghanaian literary space.

The competition grooms talents through tailored workshops and exposes their creativity by publishing their entries. She urged parents to encourage their children to make reading a habit, in order to improve their writing.
First-place winners were awarded laptops and a cash amount of GH¢5,000, second winners got GHC¢3,000 and GH¢2,000 the third-place winners.

The 4th to 10th place winners in each category received GH¢1,000, additionally, all top thirty shortlist entries across categories will be published according to Second Lady.

The winners of each category were awarded an amount of money, three books written by Manasseh Azure, a laptop and a certificate.