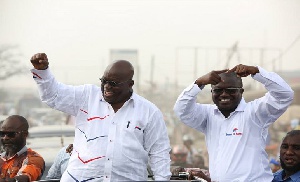 President-elect Nana Addo Dankwa Akufo-Addo has expressed happiness over the number of parliamentary seats won by the New Patriotic Party (NPP) in the Upper West Region during the just ended December 7 general election.
The party managed to secure five seats from the governing National Democratic Congress (NDC), an improvement on their poor performance in 2012, when it failed to win a single seat in the region. According to Mr Akufo-Addo, the failure in 2012 saddened him.

However, speaking to the Upper West Regional House of Chiefs as part of his Thank You tour in the region, Nana Akufo-Addo said the outcome of this year's results had wiped away his tears.

"The saddest day in my life was in 2012 when I was told by Alhaji Abubakar that we had scored zero in the Upper West Region in the 2012 election. I say it's the saddest day of my life because as a son of the Danquah-Busia-Dombo tradition, I'm fully aware that one of the founders of our tradition, the man who gave an example of selfless service to the people of our country, was no less the late Duori Naa, S.D Dombo. The (NPP) tradition bears his name as one of its initiators. Therefore, to be told that the region from which he came today had turned its back totally on our tradition gave me sadness and anguish I can never describe," he stated.
"Fortunately, 2016 has come to wipe away those tears and feelings of sadness. From zero, we have got to five out of the 11. Hopefully next time we'll get the majority," the president-elect said.

He also reiterated his commitment to execute all promises he made during his campaign.