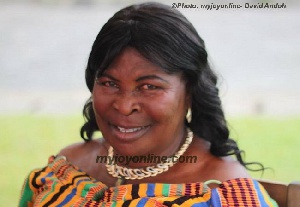 A second prosecution witness expected to testify in the case in which Akua Donkor, founder of the Ghana Freedom Party (GFP) and failed presidential hopeful – has dragged four persons, including her driver, to court for robbery, did not turn up.
The witness, who was third time absent, left Akua as the sole witness to have testified in the case.

The accused persons are Yakubu Yusif, trader and Central Regional Chairman of the GFP: Banabas Kayase, driver/secretary of the party; Opoku Agyemang, trader and Abdul Razak Shaibu, member of the Ghana Private Road Transport Union (GPRTU) task force.

Two other alleged accomplices – Joe and Nuamah aka Lion – are currently on the run.

According to Chief Superintendent Duuti Tuaruka, the six persons on December 30, 2016 at Taifa in Accra, conspired to rob the GFP flag bearer.

However, at the hearing, C/Sup. Tuaruka had told the court that the witness, who was expected by the court, was on his way.
Lawyer Angry

Vincent Aikins, a senior private legal practitioner, would not take any more of the excuses from the prosecution.

He fumed, "We have so many cases; we can't waste time on only one case…this is the third time that we have come that their witness did not come…!"

With the assurance from the prosecution that the witness was on its way to the court, the judge, Aboagye Tanoh, stood down the case for 10 minutes to enable the witness appear before the court.

When the case was called again after the 10 minutes' break, C/Sup. Tuaruka said the expected witness was indisposed.
Mr. Aikins urged the court to "admonish" the prosecution to be up-and-doing.

Hearing continues on April 27.

The prosecution said the accused persons at about 2:30 am at Sowutuom, a suburb of Accra, robbed Akua Donkor at gunpoint and snatched her travelling bag containing plane ticket, Ghanaian passport, voter ID card, $30,000 and GHC3,000.