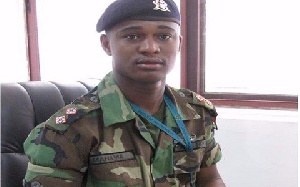 It has emerged at the Criminal Division of the Accra High Court that, the 12th Prosecution Witness (PW12), Baffour Apenteng Nyamekye, Assistant Commissioner of Police (ACP) who is under cross-examination in the case in which some 14 persons are standing trial for the murder of late military officer Maxwell Adams Mahama, has been involved in an accident.
In court today, when the ACP was expected to be further scrutinized by lawyers of the accused persons, the court was informed of the development.

Mrs. Evelyn Keelson, Chief State Attorney said the witness was involved in an accident over the weekend, hospitalized but has only been discharged yesterday.

She said upon a brief interaction with him, (witness), they will require a short adjournment to be able to get the witness back.

The state is expected to call two more witnesses in the form of the medical officer and the investigator after the ACP to make a total of 14 witnesses.

Background
Fourteen persons are standing trial at an Accra High Court over the killing of Major Mahama, who was an officer of the 5th Infantry Battalion, at Burma Camp.

The late Major was on duty at Denkyira-Obuase in the Central Region when on May 29, 2017, some residents allegedly mistook him for an armed robber and lynched him.

The mob had ignored his persistent plea that he was an officer of the Ghana Armed Forces.

The accused are William Baah, the Assemblyman of Denkyira Obuasi, Bernard Asamoah alias Daddy, Kofi Nyame a.k.a Abortion, Akwasi Boah, Kwame Tuffour, Joseph Appiah Kubi, Michael Anim and Bismarck Donkor.

Others are John Bosie, Akwasi Baah, Charles Kwaning, Emmanuel Badu, Bismarck Abanga and Kwadwo Anima.
The court presided over by Justice Mariama Owusu, a Court of Appeal judge sitting with additional responsibility as a High Court adjourned the trial to July 23 and 24, 2019.