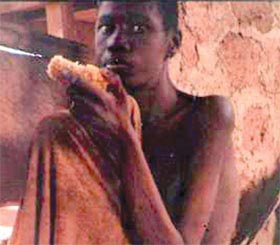 Wed, 9 Jun 2010 Source: Daily Guide
A WOMAN believed to be about 30 years has been chained for nine years by her mother, who accuses her of being a witch and the cause of their family's woes. The woman's ordeal began when her mother took her to a pastor for 'cleansing' after allegedly having sex with her boyfriend in the bush.

The victim, Afia Korkor, according to a witness, lived with her mother Yaa Nyameama at Denkyira Obuasi, a village in the Upper Denkyira West District of the Central Region.


The witness explained that a pastor, Sofo Tima of Odeefour Nkansah Church, a local church, had told the mother that her daughter was a witch who was terrorizing the family and until she was chained and prayed for, the family would continue to suffer.


This made her mother put her in chains in 2001 and refused her food and water. But the chained woman had lived on food from neighbors who sneaked to her "burrow" when her mother went to farm, since she had been fighting with those who gave her daughter food.


The victim, who now behaves like an animal, has one child and was sent to the said pastor by the mother when she was reported to have slept with her boyfriend in the bush.


The witness disclosed that rituals were performed to purify the two of them but the mother still wanted to seek the intervention of the Almighty God.

Odeefour Tima, the pastor, then told the mother that Yaa Korkor was a witch and was the source of all the problems bedeviling the family and this compelled the woman to chain her up.


Yaa Korkor had since been in chains and was only rescued after the issue was brought to light by host of 'Adekye Mu Nsem', a programme on Solar FM, a local radio station in Dunkwa on Offin.


Mother of the victim told the host of the programme, Winfred Kojo Benning aka K.K. Bonita that she acted upon the instructions of the pastor.


The case had since been reported to the Upper Denkyira Police Command while the victim is responding to treatment at the Dunkwa Municipal Government hospital.

Source: Daily Guide