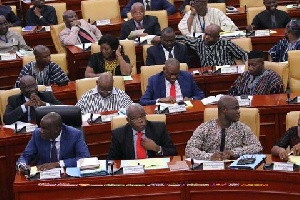 The Women Caucus of the Majority in Parliament has registered its displeasure at their counterparts in the Minority for participating in innuendos at Madam Lydia Alhassan, the new MP for Ayawaso West Wuogon, at her swearing-in.
The Minority flaunted placards, calling Madam Alhassan, who was said to be in a love relationship to late MP for Ayawaso West Wuogon Emmanuel Agyarko," Bloody Widow" and staged a walkout of the chamber of parliament, moments before she was inaugurated.

However, Deputy Majority Leader Sarah Adwoa Safo, at a press conference at the Parliament in Accra, said "we are… pained by the fact that some women MPs on the Minority Side partook in this shameful action.

" That image shall forever be a hefty blow on their conscience as women leaders in a society where we continue to suffer all manner of discrimination. "

Ms Safo lauded the contribution of women all over the world to governance, where they have proven capable of manning public affairs, and called for their value and self-respect to be duly accorded at all times.

The Women in the Majority Caucus said they "express utmost revulsion to the shameful stance staged by the Minority" …. adding "indeed we are the sentiments of our constituents across the country."


Ms Safo described the act as a "disrespectful and inhumane treatment and an attack on the dignity and integrity of womanhood", and added that the attack was brutal and "unparliamentary" according to Order 93 (2).

Ms Safo said the Minority must bow their heads in shame and render an unqualified apology to Lydia Alhassan as expected of the honourable members.

"We the women of the majority caucus are grossly disappointed in the attitude and language of the Minority members against Lydia Alhassan on the various placards displayed in the chamber yesterday."