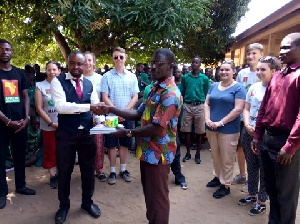 Wed, 8 Aug 2018 Source: Patrick Biddah
A former Constituency Deputy Secretary of the National Democratic Congress (NDC) in the Anlo Constituency, Wonder Victor Kutor has donated over 10,000 exercise books to selected basic schools in the constituency.
The gesture forms part of efforts by the former deputy secretary to help improve quality education through the provision of materials.

Speaking at the handing over ceremony of the items to Tegbi Evangelical Presby (E.P) basic school, also his alma mata, Mr. Kutor encouraged the students to take their lessons seriously in order to make the best out of their time in school.

This, according to him, was the foundation for making it in life.

"If you see me here today, it is because someone assisted me with what I needed to become who I am. That support I received which has always been a guiding principle is among the reasons I have come back again to offer similar support" he told the students.

Mr. Kutor, who worked as a research assistant at the Ministry of Energy and Petroleum between 2013 and 2015 and is currently a Municipal Director with the Youth Employment Agency, told the students that they can aspire to be anything in life so far as they put their mind to it and work towards it.
Receiving the books on behalf of the school, the headmaster, Mr. Seshie Christian, thanked Mr. Kutor for the kind gesture.

He called on other past students of the school to emulate Mr. Kutor's example by also donating educational materials which are needed to meet the teaching and learning needs of the school.

The Evangelical Presby Church, Ghana at Woe in the Anlo constituency was his next point of call with the donations.

Daniel Fiagbedzi and Nowel Kokoroko who are both the assembly men for the Tegbi Ashiata and Tegbi Afedome electoral areas respectively also thanked the former constituency deputy secretary for the kind gesture.
Source: Patrick Biddah