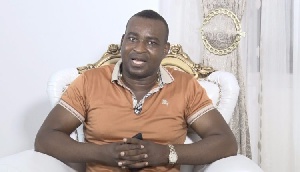 The Ashanti Regional Chairman of the New Patriotic Party (NPP), Bernard Antwi Boasiako aka 'Wontumi', insists ex-President Mahama is not competent enough to be elected as president of Ghana again.
He argued strongly that the decision by Kojo Bonsu, a former Chief Executive of the Kumasi Metropolitan Assembly (KMA), to contest Mr. Mahama in the NDC presidential race, clearly buttresses his claim.

According to Wontumi, Kojo Bonsu, prior to his shocking decision to join the NDC flagbearership race, strongly backed Mr. Mahama. He has persistently defended Mr. Mahama publicly for so many years.

Wontumi therefore stated that if a personality like Kojo Bonsu, who has faithfully served Mr. Mahama over the years, had eventually decided to snub him now then the ex-president is not capable to be elected president again.

"From all indications, Kojo Bonsu has realised that former President John Dramani Mahama is an incompetent person, who has no ideas or knowledge to properly manage the affairs of the country and that is why he has snubbed him," he added.
Speaking in an interview with DAILY GUIDE, Wontumi stated that former President Mahama had "become like an orphan" in his own political party, saying "I even pity Mr. Mahama as he looks dejected now".

The NPP guru also lauded Kojo Bonsu for having the boldness to reject Mr. Mahama at this crucial time, adding "I also suspect that, perhaps, Kojo Bonsu loves Ghana and he has seen that Mr. Mahama is not patriotic enough".

According to the Ashanti Regional NPP Chairman, Mr. Mahama would suffer more 'let downs' or 'stab in back' situations in the NDC from now till the time that the largest opposition political party would go to congress.

"It is the end of the road for Mr. Mahama because he no longer commands the respect and authority that he used to enjoy in the NDC when he was the president of Ghana 19 months ago," Wontumi asserted.