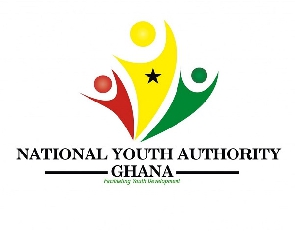 Thu, 9 Feb 2023 Source: GNA
Members of the Tarkwa-Nsuaem Municipal Youth Committee have been tasked to work diligently to achieve the National Youth Authority's vision of ensuring youth development.
According to Benjamin Kessie, the Municipal Chief Executive (MCE) of Tarkwa-Nsuaem, the formation of the committee had come to complement and rekindle the authority's effort to ensure that the youth were empowered to the level where they would have a sense of belonging, especially in Ghana's democratic dispensation.

The MCE gave the advice d at Ahwetieso when he inaugurated the Tarkwa-Nsuaem Municipal Youth Committee and swore the members into office.

The 16-member committee is chaired by Evans Ghartey.

Benjamin Kessie said over the years, the Tarkwa-Nsuaem secretariat of the National Youth Authority (NYA) had been working tirelessly to ensure the youth were constantly equipped with the requisite assistance to enable them realise their importance in society and champion good course to better their lives.

The MCE emphasized that the programmes included panel discussions, symposiums, youth parliament sections, outreach, and capacity building programmes, among others.
He noted that tasks ahead for the members would be arduous, and that require "a dedicated heart and prepared mindset to go about your duty."

In a speech read on behalf of the Western Regional Director of NYA, Joseph Clottey, said the youth committee assist the NYA to formulate policies and implement programmes that would promote a sense of creativity, self-reliance, leadership, loyalty to the country, discipline and civic responsibility in the youth as well as develop their capacity to participate in decision-making at all levels.

It would also help to identify and encourage corporate institutions and other stakeholders to invest in youth development programmes and projects within the Tarkwa Nsuaem Municipality, he further said.

The Western Regional Director of NYA expressed gratitude to Benjamin Kessie for his continuous support to the NYA secretariat in his area to successfully embark on their development work.

He commended AngloGold Ashanti Iduapriem Mine for enrolling several youths into its alternative livelihood youth apprenticeship heavy-duty training programmes and also constructing a development centre for the youth within its catchment communities.
Joseph Clottey appealed to the newly inaugurated committee to play a key role by exploring all avenues genuinely possible to assist the NYA to raise funds internally for youth development and empowerment programmes within the Tarkwa Nsuaem Municipality.

The National Youth Authority, which is the statutory institution of reference in youth development service was founded in 1974 by National Redemption Council Decree 241 with an amended Act of 2016 (Act 939).

NYA has since carried out successive programmes that seek to empower and develop the youth in the country to be self-reliant and contribute their quota towards nation-building.

Some of these programmes are; the Skills towards Employment and Productivity Programme (STEP) which the Tarkwa Nsuaem Municipality is a beneficiary, and it would be launched soon.
Source: GNA