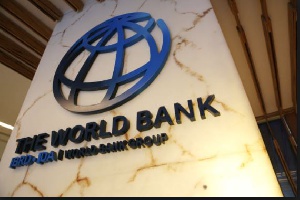 The World Bank has approved 50 million dollars to support the government's efforts at addressing illegal small-scale mining under activities outlined in the Multi-Sectoral Mining Integrated Project (MMIP).
The draft manual of activities would be sponsored by the Bank and presented to its top management. The document is expected to be approved for implementation within the next two weeks.

Mr. Mamadou Barry, a Senior Mining Specialist, Energy and Extractives at the Bank, made the disclosure when he led a delegation to pay a courtesy call on Mr. Kwaku Asoma Cheremeh, the Minister of Lands and Natural Resources, at the Ministry in Accra.

"Our mission is to assist the Government of Ghana in implementing the Multi-Sectoral Mining Integrated Project, which is to address the illegal mining issue.

"We're to design the project and gather inputs, therefore, we have reached an agreement on the priority areas we would support, and also agreed on the funding and implementation arrangements so that we can start activities on the ground as quickly as possible," Mr Barry stated.

Mr. Cheremeh, on his part, expressed appreciation to the Bank for acting quickly in approving the amount and, thus, called on all other stakeholders that had pledged support in the past to redeem their pledges.

"This is necessary because the environment is being degraded, water bodies are being polluted with dangerous chemicals like mercury, while our forests and other natural resources are being degraded," he said.
The Minister noted that while efforts were underway to roll out the MMIP, the government would continue implementing alternative livelihood programme to prevent the nation from revisiting the dark days of galamsey.

Mr. Cheremeh refuted the assertion that the activities outlined in the MMIP had been scraped from the Inter-Ministerial Committee against Illegal Mining's roadmap, noting that the MMIP had been captured in the roadmap towards the lifting of the ban on small-scale mining.

"There is no iota of truth that we have disintegrated, just that we're working from this Ministry, while the Committee is operating from the Presidency, therefore, we're all working towards eliminating illegal mining in the system," he said.

The Minister said the Government would welcome new ideas and proposals from all stakeholders towards ensuring the successful implementation of the roadmap.

"We'll welcome everybody if the time is ripe for the ban to be lifted, all ideas and suggestions would be considered," he said