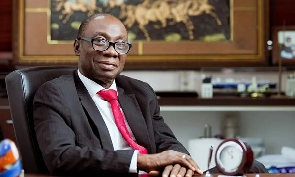 The former Power Minister under President John Mahama, Dr. Kwabena Donkor has said the World Bank Country Director, Pierre Laporte is not a technocrat to understand matters of Power Purchase Agreements.
This comes on the back of Executive Director for the Africa Center for Energy Policy, Ben Boakye also faulting the country director for World Bank for claiming that the Power Purchase Agreements entered into by the Mahama administration were poorly negotiated.

Mr. Laporte in a media engagement flagged such contracts which had take or pay clauses as most expensive blaming them for Ghana's current economic crisis.

But speaking to Starr News Dr. Donkor stated that recent commentary by Pierre Laporte is disappointing as he has moved from being a technocrat to being a partisan politician for parochial gains.

"More importantly, the World Bank Country Director is not a technocrat. Let's be very clear about that. He is a former Minister of Finance, former Minister of Trade of Seychelles as well as a former Governor of the Central Bank of Seychelles and currently a Presidential aspirant.
"He has his presidential ambition. He needs friends in the Sub-region and therefore his judgement is towards political ambition. He is not speaking as a technocrat. If he was speaking as a technocrat he would have paid a lot more attention to the facts rather than political narrations," Dr. Donkor stated.

He further stated that by the mention of Country Director it is assumed that the person has some expertise but Mr. Laporte is not one.

"But this particular Country Director, if you even observe his body language, if you observe the way he even intervenes in this energy situation, it is so clear he is not a technocrat," the former Power Minister stated.