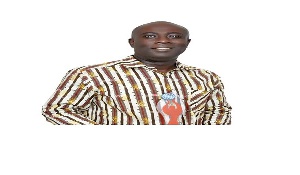 Thu, 27 Sep 2018 Source: Francis Doku
Ghana will on September 27, 2018 join the rest of the world in celebrating World Tourism Day, a day set aside by the UN World Tourism Organisation (UNWTO) to raise awareness on tourism's actual and potential contribution to sustainable development.
Anchored on the theme "Tourism and the Digital Transformation," this year's event will help to put the opportunities provided to tourism, by technological advances including big data, artificial intelligence and digital platforms, on the map of sustainable development.

The UNWTO sees digital advances and innovation as part of the solution to the challenge of marrying continued growth with a more sustainable and responsible tourism sector.

While the Tour Operators Union of Ghana (TOUGHA) recognises the risk of data privacy that comes with digital era, there are enormous opportunities in the sector that could be driven by digitization.

Thanks to technology, travelling today is reasonable affordable, accessible and convenient than ever before. All it takes is a touch of a button and split seconds to plan and book trips.

Digital platforms including, mobile devices, social media and accessible information enable destination marketers to engage with consumers and stakeholders on a larger scale than ever before.

The travel industry has been at the vanguard of digital innovation and continues to be transformed at an exponential rate globally.
Statistics from the World Economic Forum's Digital Transformation Initiative (DTI), indicates that from 2016 to 2025, digitalisation in aviation, travel and tourism is expected to create up to US$305 billion of value for the industry through increased profitability, migrate US$100 billion of value from traditional players to new competitors, and generate benefits valued at US$700 billion for customers and the wider society.

Digitalisation has left no segment of the travel ecosystem untouched.

"Technology pervades every area of tourism and must be given the highest priority when developing the workforce for the industry," said a 2016 report from the United Nations World Travel Organization.

Even more interesting, as the world grapple with job losses because of rapid deployment of technology, the tourism sector is arguably the only sector that technology use would not lead to job cuts because the industry thrives on human to human touch to service delivery.

According to the report, 52 % of smartphones in the world are owned in Asia Pacific, and social media is becoming a customer service improvement tool for hospitality groups.

But in Ghana, these gains may be lost on us without a deliberate and consistent effort to bridge the digital gap.
Statistics from the National Communications Authority (NCA) at the end of July, 2018 indicates that mobile voice subscriptions in Ghana had reached a little over 40 million, representing 137.35% penetration rate.

Internet penetration on the other hand stands at a little over 22 million, representing a penetration rate of 75.54%.

While these numbers may be commendable, the sad reality is that these numbers are concentrated in urban environment where telecom infrastructure tends to be better, leaving out rural dwellers.

Ironically, the reality is that most of our tourism offerings are located in rural areas but they are those most disconnected from even basic internet services which are now a key driver for the industry today.

As we aspire for a tourism sector that is inclusive and sustainable, technology will play a key role, especially with a thriving sharing economy of the Ubers, Airbnbs and Tripadvisors of our world today.

Travel is fundamentally about linking people and places. Leveraging technology such as near-universal high-speed internet connectivity, search and geolocation technologies, mobile payments and social platforms are shaping today's travel and tourism.
"TOUGHA, therefore, calls on the government to provide the needed incentives to the private sector and where necessary crack the whip to ensure that all parts of the country are connected and digitally smart. Each positive photo posted on social media from any tourist site, however, remote counts as a marketing tool. Each payment made via mobile money to a food vendor is building the industry. We can't afford to lose out," the President of TOUGHA, Kwesi Eyison, said.

He said bridging the country's digital divide would cater for the unmet needs of today's unconventional tourist.

TOUGHA also commends the government for staying on track to complete the Terminal 3 project at the Kotoka International Airport.

"With the Terminal 3 receiving great reviews in tourism circles around the world, it is also important to modernise some of the operations at the airport.

"We have options to either scrap the existing departure and arrival forms or introduce a self-scan system as pertains in most technologically-savvy airports across the world rather than get stuck with the filling of those forms," Mr Eyison said.

International travel is increasingly driven by cross-border collaboration between governments and the private sector.
While applauding the government for maintaining the Visa on Arrival policy started on July 1, 2016, TOUGHA believes that it is very important for the government to ride on the applause Ghana is receiving at international tourism gatherings across the continent to begin issuing e-visas.

The ease of e-visas has a lot to contribute to the growth of tourism in Ghana and we can't look further than Rwanda, Kenya and Ethiopia to see the impact on arrivals in-bound numbers.
Source: Francis Doku