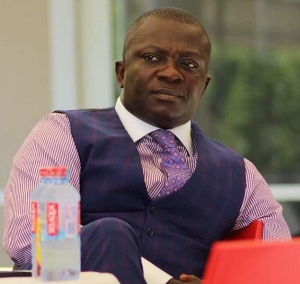 The Minister of State in charge of National Security at the presidency, Mr Bryan Acheampong, has denied personally deploying the heavily-armed and masked national security operatives who shot some 16 members of the opposition NDC during the Ayawaso West Wuogon by-election two weeks ago.
According to him, the security operatives were deployed by the office of national security and he was not even available at the time to have ordered the deployment.

"I have done three interviews on radio, and at all times, I used third-person pronouns. I never said I, and that is something that I am battling with … I have never said anywhere in the three interviews that I granted… I, at all times, mentioned the Ministry of National Security or the national security or we, I never said I have deployed men," Mr Acheampong insisted on the first day of the sitting of the Commission of Inquiry tasked by the president to probe the matter at the Osu Castle in Accra on Thursday, 14 February 2018.

He continued: "I am a minister of state in a ministry and if my Director of Operations tells me that they have deployed men, I am part of it, but I did not give the order that they should [deploy the masked men], that is why I used the words 'we have' because I know that it is my ministry that has deployed the men".
The operatives shot and wounded supporters of the opposition National Democratic Congress (NDC) at the private residence of the NDC's candidate about an hour into the by-election on Thursday, 31 January 2019.

Some civilians were also beaten up, including a Member of Parliament (MP), Mr Sam George. He was slapped in the melee in the full glare of some police officers.