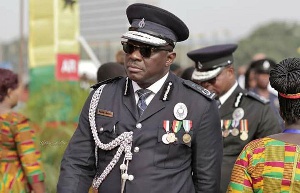 The Inspector General of Police (IGP), Mr David Asante-Apeatu has told the Justice Emile Short Commission that he had no knowledge that the office of National Security deployed a SWAT team of masked operatives for an operation around the private residence of the main opposition National Democratic Congress' parliamentary candidate, Mr Delali Kwasi Brempong on the day of the Ayawaso West Wuogon by-election.
"I did not know about it," Mr Asante-Apeatu told the Commission when asked if his office had prior knowledge about the operations of the masked men on the said day.

The National Security claimed they had intelligence that the NDC candidate had stockpiled arms in his private residence on the day of the election on 31 January 2019 and, therefore, stormed his residence which is situated close to the La-Bawaleshie polling centre on the day of the poll.

The masked men fired at a crowd that had gathered in front of the candidate's house and had prevented them from entering the residence.

The shooting temporarily disrupted the election at the polling station.

Sixteen supporters of the NDC were injured in the melee. A member of parliament for Ningo Prampram, Sam Nartey George was also assaulted by the masked men.
President Akufo-Addo set up the three-member Commission of Inquiry to probe the shooting incident and offer solutions to prevent future electoral violence in the country.

Meanwhile, Mr Brempong has refuted allegations by the National Security operatives that he stockpiled a cache of weapons in his house.

"In my life, I have never lawfully or unlawfully acquired any firearms," he told the commissioners when he appeared before them earlier.

Mr Brempong said as a pharmacist, he is trained to protect lives "and I'll have no business at all acquiring firearms".