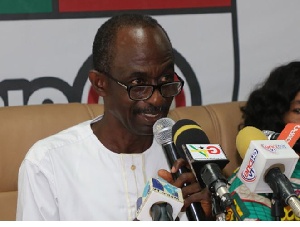 The General Secretary of the main opposition National Democratic Congress (NDC), Mr Johnson Asiedu Nketia, has said the setting up of a Commission of Inquiry to probe the violence that marred the by-election at Ayawaso West Wuogon on Thursday, 31 January 2019, is an attempt by the government to set the perpetrators free.
The government set up the Commission to investigate the shooting incident by some national security operatives that led to the injury of several NDC supporters at the party's private residence at La-Bawaleshie.

The Commission is chaired by a former Commissioner of the Commission on Human Rights and Administrative Justice (CHRAJ), Justice Emile Short.

Legal expert Prof Henrietta Mensah Bonsu and Mr Patrick K. Acheampong, a former IGP, are members of the Commission.

The Commission has a month to submit its report to the President.

However, Mr Nketia insists the setting up of the commission is a cover-up move.
He told Class News that: "The intention of the president is not to punish the perpetrators or to find solutions, the intention is to cover-up so that they will buy time and then people will get off the hook unpunished.



"Nobody can convince me that having being Attorney General of this country for so long and being the president of the Ghana Bar Association and so on, Akufo-Addo doesn't understand the constitutional provision for the establishment of Commissions of Inquiry. He does, and, indeed, when he was Attorney General, some commissions were established.

"So, I don't understand. But this is in keeping with the history of the NPP. Whenever their backs are at the wall and they want to find an escape route and get protection for their members who have found themselves on the wrong side of the law, they will do all kinds of things to free their people. So, the bottom line is that NPP has no intention to get their party hoodlums punished for any atrocities they might have committed at Ayawaso West Wuogon."