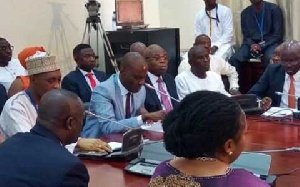 Beginning today, Tuesday, 5 February 2019, the Minority in Parliament will be storming the Police Headquarters in Accra every Tuesday, to pile pressure on the Inspector General of Police and his hierarchy to bring the perpetrators who shot some members of the main opposition National Democratic Congress (NDC) during the Ayawaso West Wuogon by-election, to book.
The action will continue until the perpetrators have been brought to justice.

The Minority's #OccupyingPoliceHQ campaign will take place at 2 p.m.

Heavily-armed National Security operatives shot and wounded several members of the opposition NDC at the private residence of the NDC's candidate about an hour into the by-election on Thursday, 31 January 2019.

Meanwhile, the Ghana Bar Association (GBA) has described the violence that marred the by-election as a threat to the rule of law and a blight on Ghana's democratic credentials.

In a statement, the association called on the government and the security agencies to probe the violence and bring perpetrators to book.
Reacting to the violence, the GBA in a statement said it "views the use of firearms and acts of violence in a constituency where a by-election was being held as a serious blight on Ghana's democratic credentials and a threat to the rule of law."

The Bar said it finds it alarming and shameful that people should sustain gunshot wounds and others, including a member of Ghana's legislative arm of government, be assaulted by persons, some of whom were masked.

The association said it condemns in no uncertain terms the action of the perpetrators and called on the law enforcement agencies to ensure that the culprits are duly charged and prosecuted.