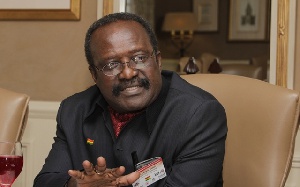 Former Ghanaian High Commissioner to South Africa, Ambassador Kwesi Ahwoi has defended comments by the South African Commissioner to Ghana Lulu Xingwana over the xenophobic attacks in South Africa.
The High Commissioner has come under heavy criticism following her undiplomatic response to the barbaric action by her fellow countrymen towards other African nationals back home.

Lulu Xingwana in an interview with Starr News, among other things, asked African governments to create jobs for their citizens to discourage them from travelling to South Africa for greener pastures.

"And this starts from poverty, all of our countries must create jobs and opportunities for their people so that we don't all flock to one country because the one country would not be able to cope. If all of us were coming to Ghana, would you cope? Would you?" she said on Starr Today on Starr FM.

The High Commissioner also said foreigners sell fake goods in South Africa.
Commenting on the development, Mr. Ahwoi told Starr News the diplomatic was discharging her duties as she was supposed to.

"I think this takes me back to 2015 when I was in South Africa, answering that question the same way because Ghanaians were threatening to close down the South African businesses here in Ghana, and my answer was exactly what her excellency the South African ambassador gave," he said.

"When you go to Accra mall, the concrete walls belong to South African-Ghanaian partnership, but then you have South African businesses in there. Game, Shoprite, these are South African brand name shops but when you enter the shops, you'll hardly find any South African in there working. Every worker there is virtually a Ghanaian."