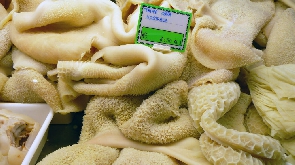 The Adanso Asokwa MP at his appearance before the appointments committee reiterated a report by a cabinet committee that revealed Ghana spends over 160 million dollars importing internal organs of cows and other ruminants.

He assured of efforts to work towards addressing the challenge if given the nod.

"Why is it that everything you can think about is being imported into the country? These importations have terrible effects on our foreign exchange reserves. I think it's about time we took a serious look at this particular issue. I'm told a committee was put up by cabinet to deal specifically with this matter.

"When I looked at some of the issues that have been raised, I was scandalised. I'm told it's being decided at that level [cabinet] that we should be looking at about 50 specific areas.

"I'm scandalised at what appears to be in paragraph 4, is that what we are importing to Ghana? We are importing guts, bladders, stomachs of animals to Ghana to complement our foods. And that alone totalled about one hundred and sixty-four million, five hundred and seventy-five thousand plus some hundreds of dollars[the year under review]. I thought this is a little bit of a scandal. It's not only this but this is what I find scandalising".

Meanwhile, KT's attempt to be at his jovial best however did not sit down well with some minority members of the committee like Mahama Ayariga and Governs Kwame Agbodza who insisted he takes the committee seriously.

The Adansi Asokwa MP will replace Alan Kyerematen if he sails through the vetting.