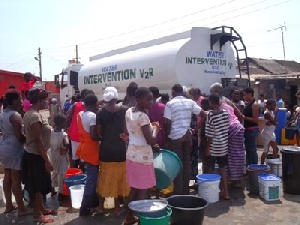 Water Tankers have been deployed to Yendi, the second largest town in the Northern region, 91km from the regional capital, Tamale, to provide emergency service to residents following a severe water crisis that has wracked health service and agriculture.
The move was ordered by the Member of Parliament, Habib Tijani and will be in collaboration with the Water Company in Tamale to ensure water is made available to the people of Yendi municipality for fee.

The water tankers will be stationed permanently at Yendi and daily distribute water to the entire municipality with a population of about one hundred and ninety six thousand (196, 000).

Authorities have been forced into taking this desperate measure in order to ease effects of the water crisis that has threatened residents and food security.

Member of Parliament for the Yendi constituency, Habib Tijani confirming the deployment to Starr News added that a $30m loan had been secured from the Indian government to draw water from the Oti River to permanently end the crisis.

He said a contract would be awarded for the project to commence immediately the loan arrangement which is currently at an advanced stage is sealed.

"We've been on this issue for the past two months because we foresaw this was going to be the situation we find ourselves, so at a meeting of the Water Resources Works and Housing committee in Parliament, I raised and the then Managing Director (MD) ordered the regional manager to ensure that when the situation arises, tankers should be mobilised to get water to the people of Yendi".
"The long term strategy is to get the water from Oti River to Yendi and we have $30m from the India government and very soon it will be awarded on contract," the deputy foreign affairs minister revealed.

The Municipal Director, Sarfo Agyapong Kantanka also confirmed the intervention, saying the situation is "severe" and needed a quick fix.

Water crisis is a perennial problem for Yendi residents and water management bodies have blamed it on activities of sand wining which has damaged River Dakar, the main source of water.

Residents have been using polluted water for domestic chores and about 160 boreholes across the municipality have stood dry and stand pipes empty for several months without fresh running water.

The only hospital which serves as a referral centre for other seven districts has been severely hit by the crisis. Hospital authorities said an amount of GHC5,250 spent weekly on water is rankling its financial strength. Relatives of patients are being asked to carry water from homes to the facility for operation and surgeries.

Farmlands have dried and crops are perishing compelling some youth to abandon the occupation and drift to the violence prone district capital in search of unavailable jobs.