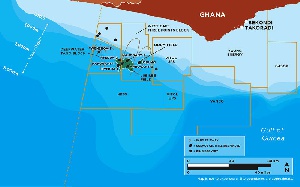 Tue, 7 Jun 2011 Source: Oil & Gas Journal
Hess Corp. said Tuesday that an exploratory well hit oil and gas deposits off the coast of Ghana.

The New York-based energy company said its Paradise-1 exploration well hit 490 net feet (149 meters) of oil and natural gas condensate. The well, which is more than 6,000 feet (1,828 meters) under water, was drilled to a total depth of 16,436 feet (5,000 meters). Hess owns 90 percent of the well. The Ghana National Petroleum Corp. owns the remaining 10 percent.


Hess said it will evaluate the well results and plan further drilling tests in the area.

Its shares rose $1.62, or 2.2 percent, to $76 in morning trading Tuesday.

Source: Oil & Gas Journal