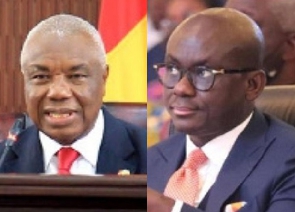 The Attorney General and Minister of Justice, Godfred Dame, has praised retiring Supreme Court Judge, Justice Jones Victor Dotse, for his contribution to the development of Ghana's judicial system.
Justice Dotse, the acting Chief Justice of the Supreme Court of Ghana, would be retiring from the court on Thursday, June 8, 2023, when he turns 70.

Speaking at a valedictory ceremony held to honour the outgoing Supreme Court Justice at the premises of the court in Accra on Tuesday, June 6, 2023, Dame described Justice Dotse as a humble and a kind judge, asaaseradio.com reports.

He added that he realised how good the judge was when he first met him in a case he was involved in.

"Since my first encounter with [Justice Dotse] in 2004, when I was appointed a mediator in a matter [he] was handling at the Fast Track Division of the High Court, [I] observed that [Justice Dotse] had gravity and patience for all except the pompous and disrespectful.

"Further to this, your extreme sense of humanity, kindness and compassion in the adjudication of cases qualifies you, in my respectful opinion, for the accolade "A Judge's Judge, a lawyer's Judge, and a litigant's Judge all rolled into one," he said.
He went on to narrate how Justice Dotse overturned the ruling of the High Court and Appeals Court when he (Dame) represent his auntie who was wrongly fired by her employers.

"Our belief that both the judgments of the High Court and Court of Appeal were erroneous and unfair was confirmed when the Supreme Court in its decision, the lead judgment of which was authored by Dotse JSC, allowed the appeal and awarded damages in favour of my aunt.

"The decision now remains a leading authority on the enforcement of the right to privacy in Ghana law. Unfortunately, by the time the decision was delivered on 19th December 2017, after fully conducting the entire matter including the hearing at the Supreme Court, I had been appointed Deputy Attorney-General, and thus my good friend, Yaw Oppong, went to take the judgment and is recorded as counsel for the victorious applicant/respondent/respondent (Abena Ackah)," Godfred Dame said.

About Justice Dotse:

Jones Victor Mawulorm was sworn in as a Justice of the Supreme Court of the Gambia in February 2008 and in June of that same year became a Justice of the Supreme Court of Ghana.
He worked as a State Attorney with the Attorney-General's Department from 1979 to 1981. After this stint, he went into private practice. He served as the President of the Volta Region Bar of the Ghana Bar Association. He became a high court judge in June 2002 and became a judge in the Court of Appeals in September 2003.

He also served as the Chairman of the Governing Board of the Judicial Training Institute in Accra. Jones Dotse is the Chairman of the University Council of the University of Health and Allied Sciences in Ho.

He attended the Accra Academy for his secondary education. He studied law at the University of Ghana, Legon, graduating in June 1976, and was called to the Ghanaian Bar in November 1978.

He has attended courses and seminars in several countries including the United States, Canada, Nigeria, Liberia, and Ghana.

Meanwhile, watch the first episode of Everyday People on GhanaWeb TV below:


You can also watch the latest episode of People & Places here:






IB/OGB