Member of Parliament for Ningo-Prampram constituency, Sam George Nartey has vehemently condemned the National Security Minister, Albert Kan Dapaah, the Interior Minister, Ambrose Dery and the Minister in-charge of National Security, Bryan Acheampong for lying before the commission investigating the violence that occurred during the Ayawaso West Wuogon by-election.
The MP who was beaten by some thugs operating under the disguise of the National Security described the ministers of state as liars in high places who have no conscience and integrity.

He tweeted "Liars in high places. Men of little conscience and no integrity. Shameful!-feeling angry."

Three Ministers of state appeared before the Justice Emile Short's three-member commission of inquiry and gave their respective accounts of the security situation during the by-election.

The Ministers in one voice condemned political vigilantism, stating that it was criminal and those who engage in it should be punished according to the law.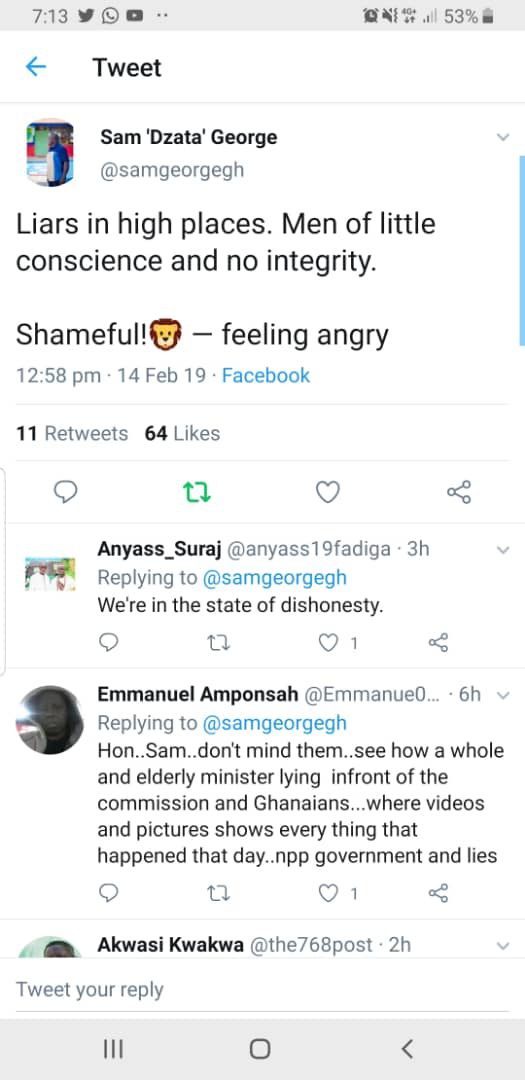 Mr Ambrose Dery in a response to a question posed to him said "As reported to me, by the IGP, who was in charge of the operations, I will say that there were police deployed and there were also officers of the Ghana Immigration Service, also deployed in the 137 polling stations. That is what I know…"

"…I first saw on TV, some persons dressed in Khaki and some of them wearing masks and armed… and when I got the video, I forwarded it to the Police and he said these are not part of my men. I later got information that an officer of National security had said that they were national security operatives," he added.

Mr Kan-Dapaah, however, noted the notion that political parties owned vigilante groups was false and that no party in the country owned any such groups; adding that, vigilante groups were rather owned by members of political parties.



"There isn't one vigilante group that belongs to a political party, the Centre for Democratic Development (CDD) has just come out with a study, which established that these vigilante groups are owned by some individuals and kingpins within the political parties."
"So the NPP has not got a vigilante group per se because if you go into it you will find that these are not vigilante group of the party." Mr Eric Osei Mensah, the Commission's Counsel also asked Mr Bryan Acheampong whether media reports making rounds that he ordered the deployment of the SWAT team was true, Mr Acheampong replied in the negative, saying at no point in time did he ever make such a claim.

He recounted that he granted three interviews to three media houses and that in all his remarks, he used the words "we deployed…."; referring to the National Security.



At this point, the Commission's Council asked that the tape of the interview Bryan Acheampong granted on an Accra based Citi FM be played for the records. After listening to the tape for eight minutes, it confirmed Bryan Acheampong's submission.