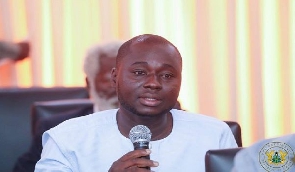 Atik Mohammed has made a solemn call to President Nana Addo Dankwa Akufo-Addo to relieve the Finance Minister, Ken Ofori-Atta, of his duties.
According to Atik Mohammed, the conditions for which the President withheld the decision to dismiss the Finance Minister or have him resign from office have been exhausted.

It could be recalled that the President, following a protest by some Members of Parliament of the governing New Patriotic Party against Mr. Ken Ofori-Atta, asked them to calm down and allow him to continue with Ghana's negotiations with the International Monetary Fund (IMF) for a bailout before the issue is revisited.

Speaking on Peace FM's "Kokrokoo" morning show in relation to the government's Domestic Debt Exchange Programme in which bondholders are told will gain a zero benefit on their investments for the year 2023 and which has been widely opposed by the victims, Atik Mohammed stated that, from the look of things, the Finance Minister is tired and must go.

He explained why the government has resorted to a debt exchange programme saying, "what has caused this situation? It is because our debt became unsustainable. When we say your debt is unsustainable, it means you have taken so much loans that it has become difficult for you to pay up your debts because we use our income or revenues to pay debts. So, when your revenues are not going up but your debts keep rising, it gets to a point your repayment or your debt burden becomes so huge that paying off your debts becomes very difficult".
The PNC former General Secretary emphasized that he is "one of the keen supporters of the fact that our Finance Minister is tired. He needs to rest. He must go and rest!"

He believed the Minister's resignation will engender Ghanaians' confidence in the government.

"I stand by my call that the Finance Minister has done something but cannot do it all . . . It is time you took a leave. Go and rest and allow for a new person to take your place," he further stressed.