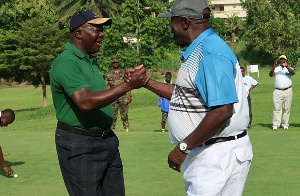 The Okyenhene, His Royal Majesty, Osagyefuo Amoatia Ofori Panin, says under no circumstances will he ever fall prey to attempts by his detractors to sow seeds of discord between the Ofori Panin Palace headed by himself and Manhyia Palace headed by the King of the Ashanti Kingdom, Otumfuo Osei Tutu II.
His relationship with the Otumfuo he noted can never be severed owing to the strong ties between the two chieftaincy institutions.

Reports are rife in the media that Ofori Panin Palace is undergoing massive expansion works with such project aimed at rivaling the status of the Asantehene by building a palace twice the size of Manhyia Palace.

The situation, kasapafmonline.com understands, has brought uneasy calm among residents in Kibi living around the Ofori Panin Fie as about 500 houses are said to be demolished to pave way for the expansion project.

But a statement signed by the Secretary to the Office of the Okyenhene, D. M. Ofori-Atta, dated August 8, 2018 and released in Accra said such claims which is allegedly being spearheaded by one Daniel Aboagye of a group called Concerned Citizens of Okyeman, are false.
According to the statement, the Akyem Abuakwa Traditional Council has no such intentions to expand the Ofori Panin Palace just to rival Manhyia palace, and also denied serving notice of eviction to 500 residents of Kyebi.

The statement in part explained that "His Royal Majesty the Okyenhene, Osagyefuo Amoatia Ofori Panin in the year 2007 began a process of extensive renovation of the Ofori Panin Palace. In consequence of the above, it became necessary in the year 2014 to serve notices of eviction to squatters around the palace, these are residents of houses constructed by and owned by the Ofori Panin Stool to serve as quarters for domestic staff and officials of the palace. Strictly speaking these are part of the Ofori Panin Palace infrastructure. Upon humanitarian consideration, His Royal Majesty the Okyenhene Osagyefuo Amoatia Ofori Panin ordered that those affected be given assistance to rent houses and those who wanted to build houses be given land at no cost. The report that over 500 houses are to be demolished is credulous and irresponsible".

To the Office of the Okyenhene, the media reports are however not surprising since "we see it as a drop in the ocean amongst several attempts to denigrate the person of the Okyenhene, and being part of the agenda to court public disaffection for the Ofori Panin Stool and Okyeman".

"It is interesting to note that the Ofori Panin Palace is sandwiched between major roads, thus any possible expansion will be limited in scope by any consideration. Also the housing unit in Kyebi counts just over two thousand! For the media to report that over 500 houses are to be broken down for palace expansion is irresponsible", the report in part further explained.