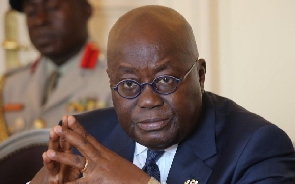 President Akufo-Addo the law is on the side of the Ghana Union of Traders Association (GUTA) in their standoff with Nigerian traders but it does not mean that they have the right to take the law into their own hands.
Addressing the leadership and members of Ghana Union of Traders Association as part of his tour of the Greater Accra Region at a stopover in Makola, President Akufo-Addo said GUTA must allow the ongoing consultations between them, the Trade Ministry and Ghana Immigration Service, on the other hand, to be completed in order to find a lasting solution to the problem.

"People cannot take the law into their own hands and enforce the law. If we do that, Ghana will become chaotic. We have to be careful about this phenomenon of taking the law into our own hands about situations that government is yet to resolve" President Akufo-Addo said.

"Please allow the work that the Trade Minister and the Committee are doing with the Immigration Authorities to progress. I am confident that if we allow same to work, your issues with foreign participation in the retail business will soon be a thing of the past in line with the law" President Akufo Addo added.

Some GUTA members last Sunday night took the law into their own hand and lock up the shops of about one hundred (100) trades at circle they suspect are foreigners who are in breach of the Ghana Investment Promotion Centre (GIPC) law.

GUTA President
GUTA President Dr. Joseph Obeng, in his remarks, said the Union of Traders is mindful of the potential damage that any fight with foreign traders in Ghana could pose against the International image of Ghana. GUTA he said is ready to cooperate with government to find an amicable resolution of the issue of foreign participation in the retail sector.

Trade Bank

On the issue of the establishment of a trade bank in Ghana, he indicated that plans are far advanced in the establishment of same in the year 2020. He requested of government to secure some money to invest in the bank to serve as a backbone for trades in the country.