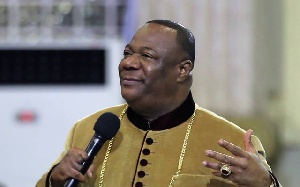 Archbishop Nicholas Duncan-Williams has said Christians are fighting the proposal to build a National Cathedral as though it is their money that would be used for it.
"The Muslims have built a National Mosque and nobody has complained about it. But a National Cathedral, where there will be the first of its kind bible museums with the different characters in the bible being showcased where children, families, people will travel from far and near to pay and come and look; and it shall stand for God and country, as a memorial, we'll oppose it: 'Who is funding it? Who is giving to it? Who is financing it? Where is the money coming from?' As if somebody has asked you for your money.

"And we'll oppose it, even when we don't understand it. We won't ask the questions, we criticise things, we fight everything", the Action Chapel International founder fumed on Sunday, 11 November 2018 during his second sermon.
The cathedral will house a 5000-seater hall that can be expanded to accommodate 15,000. It will also have a baptistery, chapels, conference a centre, and Africa's first Bible Museum and Documentation Centre.

It will sit on a 14-acre land to be given by the government.