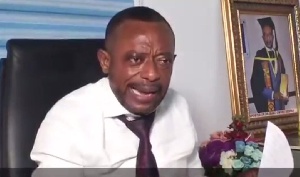 Pastors in Ghana have descended heavily on the Founder and Leader of Glorious Word Power Ministry International Reverend Isaac Owusu Bempah crowning him as Ghana's renowned fake prophet who is full of deceit.
They described him as a fake prophet who always deceives people with his prophecies in order to enrich himself and not a true Man of God who yearns to win souls for Christ.

This is an observation made by Chief, a Junior Pastor of Opambour Ebenezer Adarkwa Yiadom popularly called Prophet 1 of Ebenezer Miracle Worship Center.

Citing example, he recalled a prophesy by Reverend Owusu Bempah which indicated that Hilary Clinton wife of USA former President Bill Clinton was bound to win the American 2016 elections but she lost to Donald Trump.

According to Pastor Chief, none of Rev Owusu Bempah's prophecies have ever come to pass adding that the latter is nowhere near Prophet 1 when it comes to prophecies and preaching.

'Have any of your prophecies ever come to pass, all your prophecies are fake. You gave a fake prophesy about the American elections involving Donald Trump and Hilary Clinton. You call yourself a pastor, who are you to condemn any pastor. Most pastors dislike you because of your fake prophecies' he angrily said in a video sighted by MyNewsGh.com.
He further observed that most pastors in the country have developed some hatred for Rev Owusu Bempah because of his fake prophecies and his move to create enmity between them.

His comment comes after Rev.Owusu Bempah during a sermon mentioned a list of good and bad pastors, indicating to his congregation and Ghanaians the good ones they can visit their churches to worship.

But a livid Junior Pastor of Prophet 1 of Ebenezer Miracle Worship Center lambasted Rev.Owusu Bempah challenging him to reveal his source of prophecy warning him from making such utterances.

In a video sighted by MyNews.Gh.com, he aggressively said, 'Who dare you to determine who bad and good pastors in the country are?, who is that pastor who claims God has revealed to him true men of God, and the bad nuts in the Christendom. It's all lies, God didn't reveal anything to you. I'm telling you, somebody should tell useless Rev. Owusu Bempah that his prophesy is useless…who are you to judge somebody. Can you compare your fake prophecies to that of Prophet 1's authentic prophecies'.