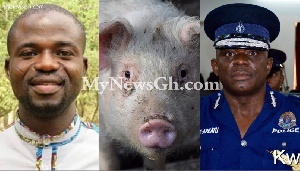 Investigative journalist Manasseh Azure Awuni has said the Inspector General of Police, Mr David Asante-Apeatu is "impotent" in resolving the insecurity issues recorded during the just-ended by-election, and this his "impotence" can be likened to the "impotence of a castrated pig"; MyNewsGh.com can report.
According to the award-winning journalist, the IGP is a "political puppet" incapable of addressing what happened during the by-election and in his words; "the Inspector General of Police is as impotent as a castrated pig

in these matters …" .

In a second article authored by Manasseh Azure sighted by MyNewsGH.com, Manasseh after tackling President Akufo-Addo went straight for the head of the Ghana police.

Manasseh was reacting to developments following happenings in the Ayawaso West Wuogon by-election in which armed, masked men attacked unarmed civilians and a police officer. The armed, masked boys were later revealed to be National Security boys.

But in the MyNewsGh.com-sighted article, Manasseh said although Mr Bryan Acheampong has taken responsibility for the boys, the full blame should be laid on the heads of President Akufo-Addo and "impotent pig" IGP David Asante-Apeatu.


"The Inspector General of Police is as impotent as a castrated pig in these matters," he wrote.

"He (IGP) has been reduced to a puppet of the politicians and he knows it", he added.

On investigations being conducted into the by-election disturbances, Manasseh says "Nothing will happen to anybody. No investigation will take place. Those who have been shot and maimed have be wounded for free. Nobody will be held responsible. The police officer who was attacked will not get justice. This will further sink the morale of the police service." he warned.

He added: "The NDC pulled out of the by-election and former President John Dramani Mahama did not mince words when he warned that the NDC would match the NPP "boot for boot" in the 2020 election if the NPP decided to continue with the violence. He went on to remind the NPP that the NDC comes from a revolutionary background and could not be outdone when it comes to violence."