Leading member of the governing New Patriotic Party, Gabby Asare Otchere-Darko, has replied comments from Franklin Cudjoe and Kofi Bentil, suggesting President Akufo-Addo sought to 'insult' and 'disrespect' CSOs at the recently held media encounter.
Both leaders of IMANI Ghana 'hit hard' at President Akufo-Addo after he described alternatives presented by some CSOs who criticize his policies as having little substance.

They described his comments as disrespectful and insulting.

Mr. Otchere-Darko who obviously doesn't see any reason for their 'noise making' took to Facebook to comment on the issue.

According to him, Mr. Cudjoe and Bentil have in the past used harsher words on the President and have gone unreplied. He therefore finds it interesting that the same persons will flare up when the President describes some of their criticisms as 'damp squibs'.

"Damp squib is really about when you make such a big deal about something but in the final analysis it does not match up to the hype."
"When the President says this to describe some of the issues raised by the opposition or CSOs, Franklin and Kofi, who are known to use harsher words on the President, find it insulting. Civil society leaders should also learn to be tolerant. Democracy is like that, my brothers".

President Akufo-Addo, in a response to a journalist's question about attacks on his policy initiatives by the National Democratic Congress and some think-tanks said;

"Many of think tanks too. Many of the bombs they throw turn out to be damp squibs; at the end of the day, they have very little substance to them. It is their right. I will be the first to say it is their rights to open their mouths and say what they want. It is not going to deter me".

IMANI boss, Franklin Cudjoe and his Vice, Kofi Bentil in response however described the comments as unfortunate and sad.

"Swipe at CSOs, sad… disrespectful, counterproductive. it's such a mistake to see CSOs as a negative, it only brings you trouble!", Kofi Bentil said, whilst Mr. Cudjoe called it an absolute insult.
"…All CSOs and think tanks are worrying you and by extension emboldening your ministers and party people to deal with us ruthlessly huh as many are doing huh? I never thought you could actually INSULT US", the IMANI boss wrote in a post.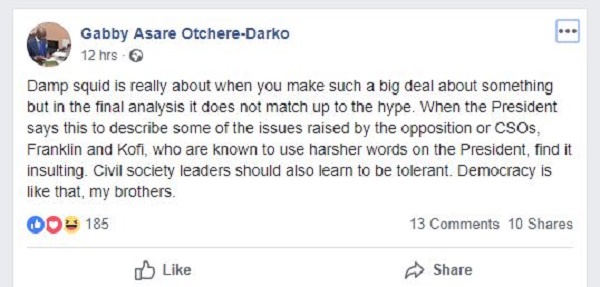 Send your news stories to and features to . Chat with us via WhatsApp on +233 55 2699 625.