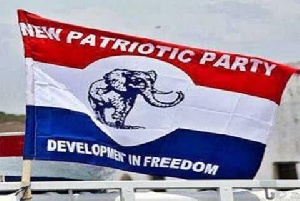 Mon, 22 Apr 2019 Source: Ernest Opoku Nti
Young and affable businessman Eric Ntiri-Mensah was last Sunday honoured by the Eastern Region NPP Youth Wing in Kwahu as the Chairman of the newly inaugurated Finance Committee.
Eric Ntiri-Mensah, an astute member of the Kade Constituency NPP whose known works have spread beyond the constituency to regional and national, was selected for his selfless contribution to the party.

Speaking to the media, the regional youth organiser, Jerry Osei-Poku, confessed that the Eric Ntiri-Mensah's dedication to the party and readiness to at all times sponsor party activities for barely nothing in return cannot be over-emphasized.

"In 2016, this young man was all over with every pesewa he had, sponsoring every activity we approach him with and serving the party with all humility. If Eastern Region NPP Youth Wing was stronger, he was an unseen hand behind that", the Regional Youth Organiser said.
When we approached Mr. Ntiri at press time, he said his key responsibility now is to mobilise enough resources for the second term victory of His Excellency Nana Akufo-Addo and all Eastern Region Parliamentary candidates ahead of Election 2020, which he is going to discharge with all diligence.

He was grateful to the people of Kade Constituency for their immense support in all his works.
Source: Ernest Opoku Nti