Your actions are utterly disgusting and shameless – NPP Women's Organiser blasts female minority MPs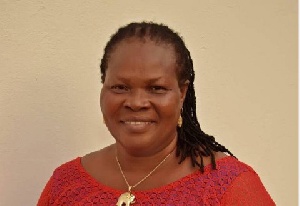 The Volta Regional Women's Organiser of the New Patriotic Party, Afi Adzagbo has noted that she is utterly alarmed and disgusted at the 'shameless' National Democratic Congress' female parliamentarians for the attack on the newly elected member of parliament, Hon. Lydia Seyram Alhassan.
The Minority staged a walkout in Parliament on Tuesday, wielding placards with the inscription 'bloody widow', during the swearing-in of Lydia Seyram Alhassan as legislator for the Ayawaso West Wuogon Constituency.

Their action is in solidarity with victims of the Ayawaso West Wuogon Constituency, by-election shooting incident, through which their new colleague (Lydia Seyram Alhassan), emerged as a winner.

In furtherance of their actions, the Minority MPs matched to the Police Headquarters, with a lead victim, Hon. Sam Dzata, who is helping the police in investigations into the violent incident on Thursday.

But commenting on the walkout, the NPP Women Organizer said the 'attack' on the widow is alien to Ghanaian culture.

"Ghana as an African society is alien to the culture of attacks on our women let alone pour insults and use unprintable words on a widow as we witnessed in parliament yesterday," she noted.
She condemned the involvement of female MPs saying, they have failed to fight and protect the dignity of womanhood.

She stressed, "Regrettably enough, our female Members of Parliament, particularly from the Volta region, decided to connive and endorse this primitive, uncivilized and barbaric culture of impunity against our very own daughter, Lydia Seyram Alhassan."



"One would have thought, that in a country where women continue to fight for equal representation in Parliament, the news about Lydia Seyram Alhassan making her way to Parliament will irrespective of the party she comes from bring joy to the forward looking women in Parliament. But we were wrong".

The Women Organizer has, therefore, called for demands for an apology from the NDC female Minority MPs.
"I also call on all women from Volta region in particular, to demand an unqualified apology from our NDC female Members of Parliament for the attack on womanhood," she urged.

Meanwhile, the Minority MPs have since yesterday justified their actions, saying the Ayawaso West Wuogon MP, is a beneficiary of a blood tainted by-election.